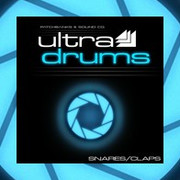 Patchbanks has announced Ultra Drums – Snares & Claps, a collection of one-shot drum samples.
For those in search of ultra-quality drum samples, search no further—as we present an impeccable collection of 101 selective snares/claps suited for house, trance and electronic club music.

Perfecting your snares and claps can be tedious when your drum sample have been re-sampled, not recorded properly or rendered with distasteful compression/eq settings—which is why we've sourced only but the best analog and digital drum modules that were recorded, processed and mixed through high-end gear to offer the most raw and robust sound possible. Expect nothing but superb sound quality like you never heard before.
Ultra Drums – Snares & Claps is available to purchase for $14.95 CAD.
More information: Patchbanks