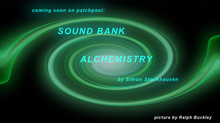 Patchpool has announced Alchemistry, a sound bank for the Alchemy synthesizer by Camel Audio.
This Sound Bank focusses on the interior of known and unknown sounds, deconstructing and rebuilding their harmonic structure by resynthesizing them and then manipulating their spectrals. The source material will be derived from found and often processed everyday objects and field recordings but also from musical instruments and voices. You will find cinematic Soundscapes, otherworldly textures, rhythmical sequences, ethereal pads and some real and unreal instruments.

All source material and samples will be especially produced for this Bank, some musicians will be hired like a Cello and a Brass player. There will be around 2 Gigabyte of samples and around 100 patches with 8 variations each in Alchemys Remix Pad. All 8 Performance Controllers will be assigned for each patch.
Alchemistry is scheduled for release around December 15, 2010. The sound bank is now available to pre-order for 23.95 EUR (regular price 29.95 EUR).
More information: Patchpool / Alchemistry