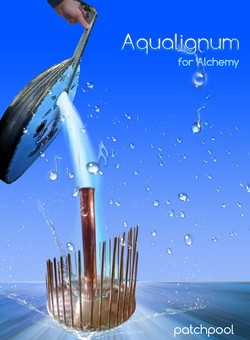 Patchpool has announced Aqualignum for Alchemy, a soundset that combines waterphone samples from the MachFive library Scattered Entity Vol. 1 with original Oud samples, an Arab string instrument especially multisampled for this library.
The mysterious and haunting tones of the waterphone meet the warm embracing string sounds of the orient. There will be approximately 50 – 60 patches making use roundabout 1.8 GB of samples, resynthesized sounds and electronic derivatives.

Multisampled string instruments, calm and dark drones, beautiful and fragile waterphone pads, ominous and evocative soundscapes, sequenced loops and some metallic mayhem will be patchified for this library.
Aqualignum features
Approximately 1.8 Gigabytes of samples (wav) and resynthesized files (.aaz)
Roundabout 50 – 60 patches with 8 variations each in Alchemy's Remix Pad, all Performance Controllers and both x/y-pads are assigned for each patch.
Delivery: download – RAR-archive in multiple parts for better download handling.
The library is scheduled for release in the second half of June, 2014. It is available to pre-order now for 30 EUR (regular price will be 38 EUR). Requires the full version of Alchemy v1.55 and higher.
Customers who own a license for Scattered Entity Vol. 1 or the SoundPack Waterphonia can pre-order this library at a 40% discount, at 18 EUR.
More information: Patchpool / Aqualignum for Alchemy