Patchworks has released version 1.3 of the Conductr Ableton Live controller app, which now includes CLAYDR, a smart & user friendly MIDI keyboard that makes sense on an iPad.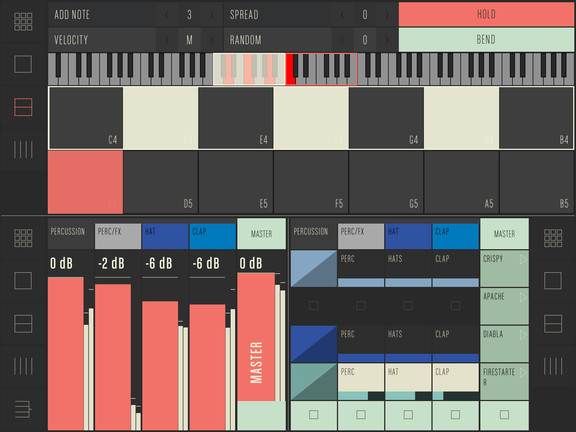 Until today, Conductr was best known as a live performing-oriented Ableton controller app. But the developers want to keep the app growing and expanding its possibilities as much as possible.
Now, Conductr gets into the production realm with the release of CLAYDR, a keyboard designed to improve every artist's composition and performance with some unique features.

Claydr works as a MIDI keyboard that allows you to play with any instrument featured in Ableton Live. It will help you to transform your ideas into music, no matter how great or not so great your skills are: Claydr features an extremely versatile chord & scales generator and can even correct out of scale notes when linked to a MIDI hardware keyboard.
Claydr features
4 rows onscreen: each row can contain a different octave and can be edited independently.
Each row's settings include functions such as Add Note, Velocity (3 different modes), Spread, Random, Hold and Bend.
More parameters can be controlled using the Claydr Shift Mode: Scale Selection (58 different options), Key mode and Chromatic mode.
The Conductr free basic version includes a one row and one scale only version of Claydr. Users can purchase Claydr Premium to get 4 rows onscreen and 58 scales. All previous Conductr Premium Full Pack owners will get Claydr's complete version for free.
More information: Conductr