Olympia Noise Co. is has announced the release of version 1.1 of Patterning, a major update to the deep and flexible drum machine that took more than six months of development.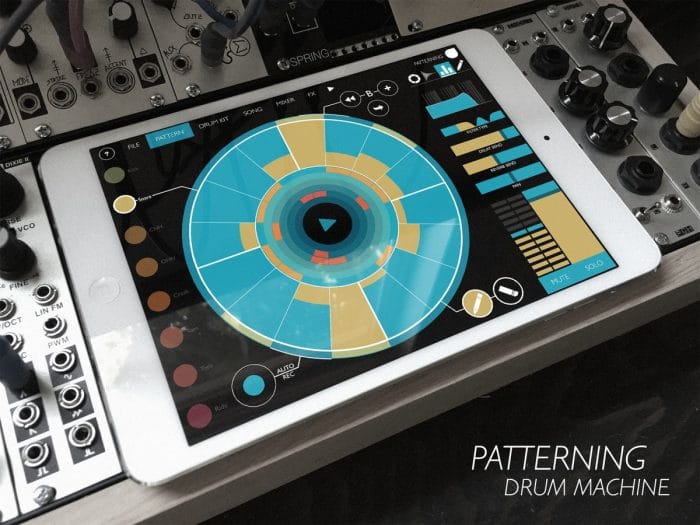 This update includes numerous enhancements to improve your workflow, making Patterning an even more fun and inspiring tool for creating beats.
Audio export, expanded MIDI capabilities, additions to Inter-App Audio support, and an updated timeline make this a huge update for iOS musicians.

One of the most exciting and oft-requested new features is audio export. Patterning now includes a highly configurable audio export function for getting your drum tracks out of Patterning and into the next stage of your creative process. It's easy to turn your beats into perfect audio loops or entire songs in .WAV format. Bounce individual tracks or the main mix and save your files to AudioShare, iTunes File Sharing or using "Open in…." to save to Dropbox or other apps.

With the addition of new MIDI capabilities, version 1.1 fills a powerful new role in your MIDI studio.
With MIDI Mappings, you can now assign notes, MIDI CC's and program changes to control Patterning with an external MIDI controller. As a MIDI generator, Patterning can now be configured to send MIDI CC and pitch bend data on track automation layers. Finally, MIDI Clock has been greatly improved, allowing you to better synchronize Patterning with hardware sequencers and synths.
Inter App Audio support has also been expanded, with the ability to output each individual track as a separate output for processing in host apps like Audiobus or AUM. For super accurate sync between apps on a single device, Patterning now also supports Inter-App Sync and transport control via the main output.

To top off these new audio and MIDI capabilities, Patterning's Timeline Editor has also been updated, making the creation of songs a whole lot easier and more fun. It is now possible to select multiple blocks for editing in the timeline, and new editing tools have been added for flexible duplication of sections. A "reset rotation" option has also been added; when engaged, the rotation of the Pattern is reset to the first step at that point in the Timeline.
In celebration of the update, Patterning will be available at a 50% discount for a limited time (regular $9.99 USD).
More information: Olympia Noise Co.