Peace Love Productions has announced the Princess X Remix Contest, a contest that allows you the opportunity to remix Princess X's new single "You Turn Me On".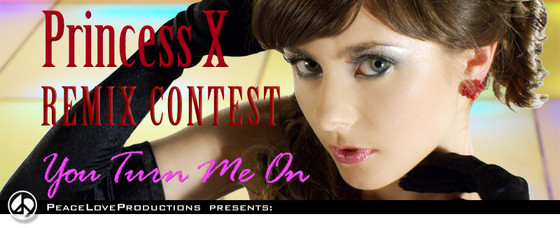 Dance-pop singer-songwriter Princess X is well known for her appearance in American Idol 2011. She was the first contestant Inessa Lee in the San Francisco audition episode. Her TV appearance featuring her belly dancing, Betty Boop impersonation, and YouTube music videos generated a flood of controversial reviews on major media outlets: "Sexy video vixen!" (MTV News), "bizarre music videos" (Yahoo! Music), and "she filled the room with cuteness and youth." (The Wall Street Journal)

Three of her original songs, Remember Me, Take Me to the Moon and Insane in F#, were chosen for the Lifetime original movie Five (2011) directed by Jennifer Aniston, Alicia Keys, Demi Moore, Patty Jenkins, and Penelope Spheeris.

Princess X has just released a new single You Turn Me On co-written by Grammy Award nominated producer Mike Burns. You Turn Me On is about physical attraction and sensuality. The dance-pop song is catchy, upbeat, and racy with elements of Dubstep. The remixes were produced by Grammy Award nominated composer Luigie Gonzalez, et al.
The best remix win an iPod Touch loaded with apps and promo on the Princess X website.
Princess X Remix Contest prizes
1st place iPod Touch 8gb.
1st place Sound Trends Music Apps (Looptastic and Gruvtron).
1st place, 2nd, 3rd Place 2 PLP downloads of choice.
1st place, 2nd, 3rd Place Promo.
All entries must be fully uploaded by midnight US CST on December 31st, 2011.
More information: Peace Love Productions