Peavey has announced ReValver MK III.V, the next version of its amplifier modeling software, which debuts nine new amplifier and effects models.
Developed by veteran tube-amp maker Peavey Electronics, ReValver is a revolutionary amplifier modeling software that captures the true characteristics of vacuum tubes while allowing users unprecedented control over their tonality and gain structures.

Peavey ReValver MK III.V will feature the debut of the Peavey 3120™, Peavey Masterpiece™, Peavey Sensation™, Budda® Superdrive™II, and Budda Superdrive V Series amplifier models. New effects models in ReValver MK III.V are the classic Peavey VCL-2™ tube compressor and the Budda Budwah™ expression pedal. All of the amp and effects models and deep editing popularized by ReValver MK III are also available in MK III.V.
ReValver MK III.V features
22 amplifier models, including the Peavey 6505®, 6505+, JSX®, 3120™, Classic®, ValveKing®, Triple XXX®, Masterpiece™ and Sensation™.
12 preamp models.
9 power amp models.
20 stompbox/pedal-type effects.
12 rack-style effects.
VST Host module.
32-bit and 64-bit operation modes.
More than 150 speaker simulations using real-time convolution and membrane modeling.
7 utility functions, including tuners, signal splitters, analyzer and more.
Fully MIDI mappable.
Peavey ReValver MK III.V will be available in Q2 2010 from authorized Peavey retailers.
Peavey has also joined forced with Muse Research And Development to develop the Musebox, a flexible musical instrument and effects module.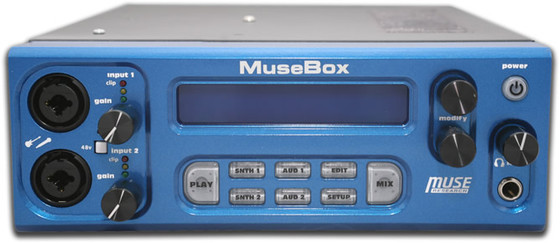 The MuseBox uses virtual instruments and effects technology in a brand-new way, so players of all types can easily take cutting-edge software-based synths, sounds and effects to rehearsals, gigs, to the practice room, or to the studio. The MuseBox's compact 2U half-rack design is ultimately portable, incredibly versatile, and built for the road.
The MuseBox will be available in spring 2010 from authorized retailers with a U.S. MSRP of $1199.99.
More information: Peavey