Nashville, aka "Music City USA," was recently the site of the fourth annual Gear Expo, which took place on Saturday, October 22, 2016, in the city's charming Berry Hill neighborhood.
Gear Expo 2016 (affectionately known as "Nashville's Pro Audio Block Party") was a creation of Pensado's Place, the acclaimed weekly educational web series, in conjunction with Vintage King Audio, a leader in professional audio sales, studio consulting, and comprehensive gear servicing.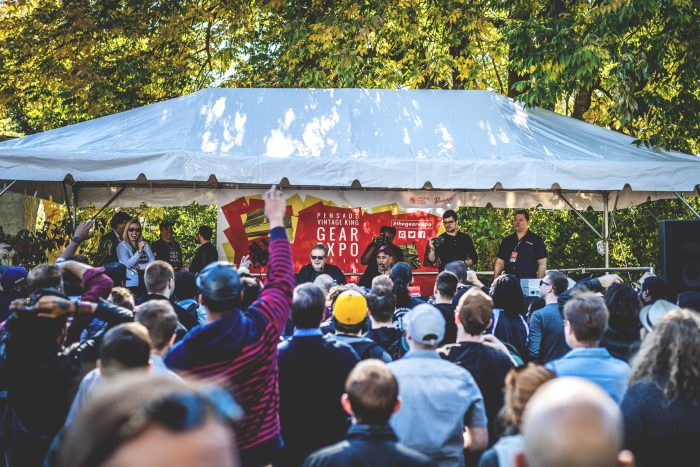 A standing-room-only crowd consisting of nearly 800 attendees including engineers, students, sponsors, manufacturers, well-known artists and others, took part in a full day of audio education, gear demos, career networking, gourmet food trucks, prizes and interviews conducted by Herb Trawick and Dave Pensado, co-hosts of Pensado's Place.

Panels and special presentations included a Songwriters Panel at 11 a.m. featuring Marc Beeson (Lady Antebellum, Sam Hunt), Phil O'Donnell (Blake Shelton, Kellie Pickler), Jason Duke (Kelsea Ballerini, Keith Urban) and Liz Hengber (Reba McEntire, Ronnie Dunn); a live jam at 12:30 spotlighting Blackbird Academy student and accident survivor David Platillero with John Willis (Kenny Chesney, Taylor Swift) and Mike Brignardello (Dolly Parton, Tim McGraw); a Producers Panel at 1:30 p.m. featuring Eric Valentine (Maroon 5, Good Charlotte), DJ Swivel (Chainsmokers, Beyoncé), Brett "Scoop" Blanden (Lady Antebellum) and Chris Lord-Alge (Green Day, Dwight Yoakam); Gigs in Audio Panel at 2:30 p.m. featuring Joseph Magee (Pitch Perfect), Mark Rubel (Audio Forensics, Education), Derek Williams (That's My Gig), Carl Tatz (studio designer), Deniece Barnes (radio host), Scott Pederson (OSA International Inc. / audio engineer and consultant / studio owner) and Tom Salta (Game Audio Network Guild); and other special guests including Mitch Dane (Jars of Clay, The Black Cadillacs), F. Reid Shippen (Dierks Bentley, Lady Antebellum), Vance Powell (Chris Stapleton, Jack White), and Jacquire King (Norah Jones, Tom Waits).

"This year's Gear Expo was another unanimous success," stated Herb Trawick. "We were very pleased at the turnout of attendees who came from near and far to watch our live interviews and panel discussions with some of the leading figures in the music industry. Attendee after attendee told us they were entertained and enlightened. We will keep coming to Nashville, because we love the community so much."

The list of sponsors has grown since the last Gear Expo, and this year's event featured some of the most prominent names in professional audio, M.I. and audio education. Sponsors included The Blackbird Academy, AVID, The Recording Connection, DTS, Moog, Ableton, M1 Distribution, Focusrite, Apogee, Transaudio Group, Gibson, Radial Engineering, Primacoustic, LANDR, ADAM Professional Audio, Prism Sound, Maselec, Fab Factory, Audio Plus Services, Focal Professional, Manley Laboratories, Studio202DC, Acoustic Fields, Slate Digital, Slate Media Technology, Chandler Limited, Bock Audio, Augspurger, ThatsMyGig.com, iZotope, Purple, Electric Thunder Studios, Trace Horse Studio, Tascam, Addiction Sound Studios, Headroom for Days, JamRacks and SKIO Music.
More information: Gear Expo Nashville