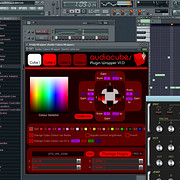 The Percussa blog has some interesting new AudioCubes things Percussa is bringing to NAMM 2009.
We will be at the upcoming Winter NAMM show in Anaheim, CA, USA. Come visit us in Hall A, Booth 7007 to see our latest developments!
Percussa at NAMM 2009
AudioCubes VST Wrapper 1.0 — Existing VST plugins or instruments in your DAW can be instantly used with AudioCubes through included VST wrappers from Percussa. The wrapper is compatible with popular DAW software such as IL FL Studio, Ableton Live, …
AudioCubes Loop Shaper 1.0 — Producing sounds or music directly with the cubes is possible through the included sound design software from Percussa (load VST plugins directly in this application without running a DAW or other software).
DeckaBridge 1.0 — Deckadance, a popular professional digital DJ application by Image-Line, can easily be used with AudioCubes through included Deckabridge software from Percussa.
Check the Percussa blog for details.