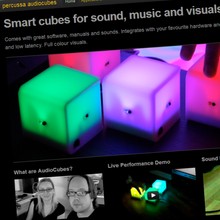 Percussa has announced the launch of its AudioCubes Discussion Mailing List, a chance to discuss and learn more about the AudioCubes musical interface, and related hardware of software.
A few minutes after launching it, the first emails from the AudioCubes user community arrived in the mailing list.

The goal of the discussion mailing list is to discuss topics about AudioCubes, Max/MSP, and any geeky stuff related to electronic music production and sound design. So people can exchange ideas as well as learn from AudioCubes experts.

Of course, me and Bert will be actively involved into the discussion as we want to talk to our users and fans personally.
More information: Percussa