Percussa has launched a Kickstarter project for its Super Signal Processor (SSP) Eurorack module, the result of interaction with the eurorack community since the launch of the Percussa Engine and Synthor System 8 at the Winter NAMM 2017 show in Anaheim, CA.
The SSP is very similar to the Percussa Engine, the synthesis platform we showed at the NAMM show, but comes with additional input and output connectors, featuring eurorack-compatible voltages, and will fit in a 60HP wide space in a eurorack system.
Among features of the SSP that are important to note, are a quad core ARM Cortex A17 processor @ 1.8GHz, one of the fastest ARM processors available, offering over 20,000 DMIPS of computing power (typical eurorack modules use cortex M4 or M7 processors which stay under 500 DMIPS), and high end ADC and DAC chips by AKM, supporting sample rates up to 192kHz and 32-bit resolution.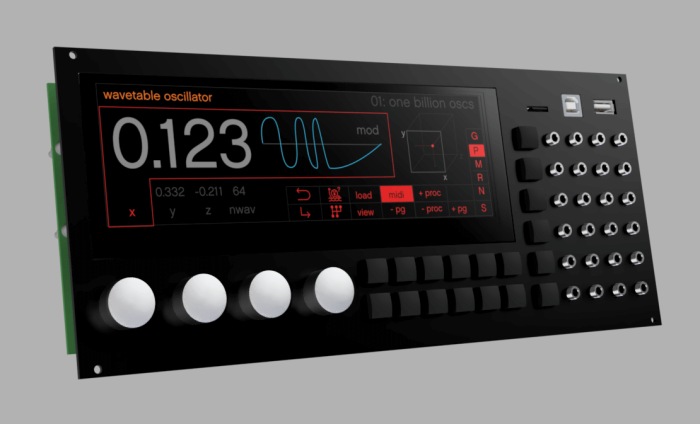 The SSP will feature 8 outputs and 16 inputs, and will support running multiple software DSP modules in parallel on multiple cores. The SSP comes with the same features of the Percussa Engine, featuring its rule-based patching system, preset storage and recall, and DSP modules such as:
Wavetable Oscillator with true 3D morphing (XYZ) and cloud features
Sampler with Layering features
LFO with multiple waveforms (sine, saw, square, triangle)
Variable Frequency Noise
DC generator
Enveloped Generator with Exponential A and DR
Waveshaper
Comb Filter
State Variable Filter
Step Sequencer
Important to note is that the Percussa SSP will support loading your own software DSP modules, which can be programmed in the C++ language. The SSP comes with the same wide-screen IPS display of 1600×480 pixels as the Percussa Engine and will feature an optimized user interface and workflow for eurorack users. The buttons and encoders will be located around the display for increased usability.
In terms of connectivity, the SSP will offer USB host and device ports for connecting a laptop for direct digital audio recording, or a USB MIDI class device for controlling the SSP. Storage wise the SSP will run of a microSD card, and a 16GB professional grade card is included in the main kickstarter pledges for the product. The SSP comes with 2GB of internal RAM which is especially useful for loading large WAV files.
One of the interesting features of the SSP is that it offers the same sampling features as the Percussa Engine, allowing you to record audio direct to SD card as WAV files, and then immediately use those WAV files as wavetables for the wavetable oscillator and sampler modules, without having to load them into software on a computer first. Everything can be done directly on the eurorack module.
Percussa is looking to raise $20,000 USD by September 3rd. The Percussa SSP DIY Kit is available for a pledge of $1,450 USD, a production unit is $1,500 USD.
Customization options and special low serial number editions are available, as well as an interesting Godfather and Godmother pledges (only one of each), which allows you to donate 5 Percussa SSP modules to 5 schools of your choice, giving students access to this powerful eurorack module.
More information: Percussa / Percussa Super Signal Processor Eurorack Module