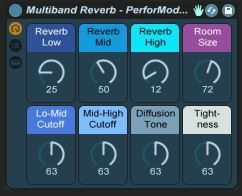 PerforModule has announced the release of a free MultiBand Reverb for Ableton Live.
A reverb effect rack sending different calibrated reverb algorithms to the lows, mids, and highs. The lengths, widths, and shapes of each reverb chain are scaled compared to each other leading to very complex, smooth and lush sound which can be used from very short ambience "small box" reverbs to extremely long-tailed hall reverbs, and everything in between. The tone can be altered carefully with just a few macro controls to sculpt the sound with great versatility and ease.

Add in Low, Mid, or High reverberation, change the room size and tightness, and alter the tone with the cutoff and diffusion knobs.
The effect rack is a free download from PerforModule. Requires Ableton Live 9.
More information: PerforModule / MultiBand Reverb