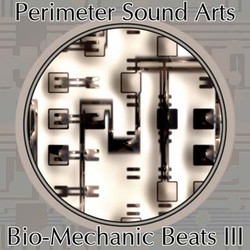 Perimeter Sound has announced the release of Bio-Mechanic Beats 3, a new collection of 509 beats and percussion loops.
The Bio-Mechanic Beats series returns – with a whole new batch of live and programmed beats and percussion for your tracks in Bio-Mechanic Beats 3. Over 1/2 a gig of new 24bit material – 509 loop samples. Make no mistake, the main focus is on the beats and percussion, 80% of the content is just that – drums.

After honing his skills making loop sample collections for Producer Loops and SoundSpice the past few years, Jeff Rhodes brings the programmed & mangled goodness to the project. While pro drummer Lance Roethle brings a fresh batch of his majik to the mix. From various set ups of full drum kits, to more sparse stripped down sets and some percussion bits, Lance went above and beyond yet again.
Bio-Mechanic Beats 3 is available for purchase for $19.95 USD.
From now until September 3rd, 2014, to celebrate the release of BMB3 and the grand reopening of the Perimeter Sound website, using the coupon code REKKERD will get a 25% discount on all Perimeter Sound products.
More information: Perimeter Sound