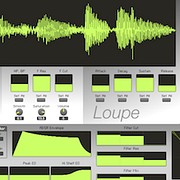 Peter Dines has announced the Threefer Deal, offering a bundle of his Reaktor ensembles at a discount.
The Halloween sale was such a success I've decided to extend a discount on a semipermanent basis: The Threefer Deal.

Purchase all three of Loupe, Mirage and ParamDrum for Reaktor and get a 33% discount. So instead of $45 for the full package, you get all three for $30!
More information: Reaktortips