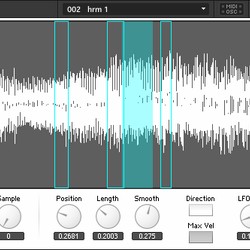 Peter Dines has announced the release of Frame 3, a free creative sampler ensemble for Native Instruments Reaktor.
Frame is a simple Reaktor sampler I built to implement a type of freeform looping and creative sampling I felt was missing from most other software samplers on the market.

Frame allows you to define a window of sound and sweep it across the sample as it plays without glitching or popping. Depending on the size of the sample, the smoothness, the spacing, and whether or not you've turned up the position / length LFO, you can get results that are reminiscent of some of the great creative sampling musicians – well alright, this also requires skill and taste; all I'm doing here is removing one of the technical hurdles. ;-)
The Frame 3 ensemble is a free download for Reaktor 5.8 (full version).
More information: Reaktor Tips / Frame 3