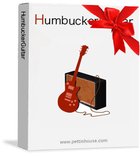 Pettinhouse has released HumbuckerGuitar, an innovative 2Gb electric guitar sample library dedicated to Rock, Metal, Blues available for NI Kontakt 2-3.
The guitar has been recorded at 24bit 96Khz dry without any effects directly to the audio interface exactly like when you plug a real electric guitar into it. In this way you can add your favorite amp simulator such as NI Guitar Rig or Amplitube and shape the sound as you wish. HumbuckerGuitar allows you to create an infinite number of guitar sounds.
HumbuckerGuitar features
1500 samples, full sustain, natural decay (no loops) and 4 velocity layers.
Round robin for alternate picking. It means that if you hit a key repeatedly you can hear two different samples, upstroke and downstroke pick instead of that typical unnatural sound coming from the same sample.
Live mode allows you to simulate the pick style and the palm muted style just moving up and down the mod wheel without moving your left hand.
Studio mode includes the dedicated key switches: slides, palm mute, pinch harmonics, tapping, trills, octave chords, unison bends, harmonics, release notes, fret noises, hand noises, pick noises, strum noises, cable noises.
All the articulations depend on key velocity to allow for combined playing. This system allows you to play straight passages with certain articulations being introduced with harder velocities. At low velocities you are able to change key switches without affecting what you are playing.
HumbuckerGuitar is availble now for download or DVD (OEM version with ordinary plastic case. No booklet and printing) for $129 USD. A free copy of DirectBass Lite is included as well.
HumbuckerGuitar can also be purchased as part of two bundles:
Guitar Bundle: Humbucker + DirectGuitar + WarmJazz for $199 instead of $387.
SUPER bundle: HumbuckerGuitar + WarmJazz + DirectGuitar + DirectBass for $249 instead of $486.
Visit Pettinhouse for more information and audio demos.