Pfundstein Audio Plugins has announced the release of a virtual instrument featuring the sounds of an octave 8-string bass guitar with string pairs similar to 12-string guitars.
BassLine Buster Std 8 was created from a handcrafted bass guitar featuring active electronics and custom components such as a special ETS bridge.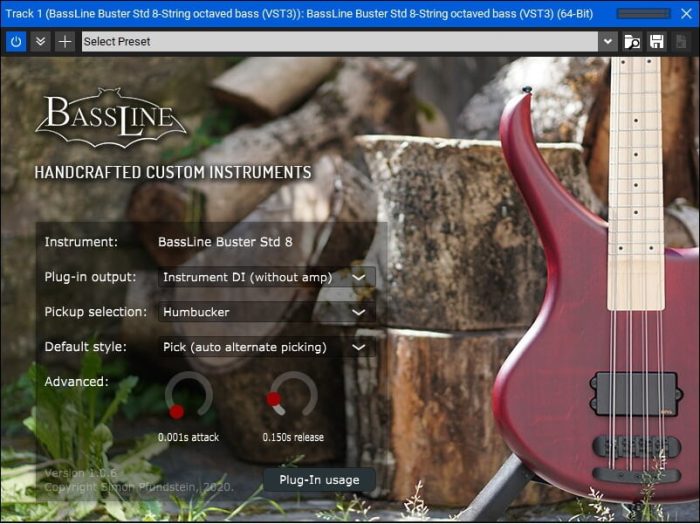 The market is filled with great MIDI bass plug-ins – 4-strings, 5-strings, fretless, jazz, precision, etc., it's all there, in different qualities from free to expensive. Now the small company "Pfundstein Audio Plugins" offers an octave 8-string bass guitar with string pairs like you know it from 12-string guitars, sampled as a virtual instrument, available for VST3 hosts under Windows and macOS: BassLine Buster Std 8 VST3 plug-in

The original bass guitar was handcrafted in Germany by the instrument manufacturer "BassLine", the specialists of professional bass guitars. World-class electronics and premium custom components like the special ETS bridge and the unique headstock make this instrument truly an eyecatcher.

Not only the optic is unique, also the sound. 8-string basses like this are a perfect fit for ballads, melodic rock songs and epic tracks, outperforming normal basses with a massive tone. While not everybody is keen on this special sound, we all must agree it's truly special.
BassLine Buster Std 8 features
Unique 8-String octaved bass sound.
Perfect fit for melodic rock and epic tracks.
Great for other genres, too.
Lowest tone: C1 (drop C tuning).
Highest tone: G4 (24th fret, regular tuning).
Velocity regulates power of attack (two layers plus palm mute).
Easy to use for beginners.
Key switches for power-users.
Finger style.
Pick style.
Automatic alternate picking.
Slapping.
Tapping.
Palm mute.
Slides and bending.
Hammer on.
Pull off.
High resolution samples with lossless compression.
Unprocessed clean DI to use you own amp/fx plugin.
Available in VST3 format Windows and Mac, the virtual instrument is on sale at an introductory price of 25 EUR for a limited time (regular 39 EUR).
More information: Pfundstein Audio Plugins