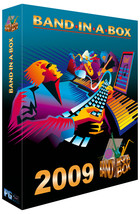 PG Music has released a Mac version of Band-in-a-Box 2009, a powerful and creative music composition tool for exploring and developing musical ideas with near-instantaneous feedback.
That's right- Band-in-a-Box 2009 has just been released with major new features like RealDrums, RealTracks and the Audio Chord Wizard! Designed for MacIntel computers, this version runs directly on the Intel chip, increasing the speed of operations!
Band-in-a-Box 2009 for Macintosh features
RealTracks – "real" instruments, including guitars, piano, bass, saxes, trumpet, trombone, pedal steel, fiddle, banjo, mandolin and many more. These tracks replace the MIDI track for that instrument, and can be controlled just like the MIDI instrument (volume changes, muting etc.).
RealDrums – replace the MIDI Drum track with real recordings of top studio Jazz/Rock/Country drummers. These are not "samples," but are full recordings, lasting from 1 to 8 bars at a time, playing along in perfect sync with the other Band-in-a-Box tracks.
No MIDI – you can use the RealTracks just like any other Band-in-a-Box styles. Previous Band-in-a-Box styles were all MIDI instruments. Now the styles can have both MIDI and RealTracks instruments, or they can be RealStyles – which are styles that are all RealTracks, with no MIDI instruments.
RealCharts – many RealTracks can also display notation showing the notes that are being played. This is a great educational feature, allowing you to see the performance on the on-screen piano, guitar, or notation. Some Guitar RealTracks also show tab, and accurate on-screen fretboard guitar display to show what is being played on guitar. The RealCharts can be saved to MIDI file or Songs (MGU).
Audio Chord Wizard – automatically figures out the chords from MP4A files (or other audio files like AIFF, M4A, and audio CD etc.). You can use the Audio Chord Wizard standalone, or with Band-in-a-Box (since you can import the chords from Audio Chord Wizard into Band-in-a-Box).
"Direct-to-Disk" Audio Rendering, converting a song to audio format, usually to an AIFF, M4A or other audio file. Now you can render directly to disk.
The Reharmonist, generate chords for a melody, or an improved chord progression for a melody with the new Reharmonist feature. This feature generates a chord progression in the genre that you choose, based only on the melody.
Lots more.
Band-in-a-Box 2009 for Macintosh is available for purchase starting at $129 USD.
Visit PG Music for more information.