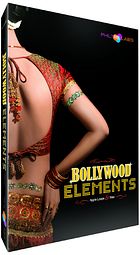 Philtre Labs has released Bollywood Elements, the follow-up to their worldwide hit 'Bollywood Grooves'.
Freshly recorded licks, one-shots, raga phrases and fx by seasoned musicians in India, Bollywood Elements is a 'premium' sample library inspired by the sound of Bollywood, using the same melodic instruments and styles typically featured in songs, background scores of films of the genre.

Fusing Indian traditional melodic instruments in your contemporary genres of music can give you a palette which is limitless… making your music a class apart.

From New age to Hip Hop, Film Music to Jazz, Bollywood Elements can be used in a number of ways to spice up your composition like never before.
Bollywood Elements features
Instruments: Bulbul Tarang, Sitar, Sarod, Shehnai, Sarangi, Flute, Mandolin, Tumbi, Ravan-hattha, Shankh.
Bonus instrument: NarSingha.
Over 2.5Gb of data including 1000 unique performances recorded @ 24 Bit / 48 KHz quality.
Bollywood Elements is available for purchase from Time+Space for £69.95 GBP / €83.95 EUR.
Visit Philtre Labs and Time+Space for more information and some audio demos.