Venomode has released an update to the Phrasebox phrase arpeggiator plugin.
Version 1.2 of the tool that lets you craft expressive sequences from MIDI chords adds new features and enhancements, including a new theme, new playback modes and a host of usability tweaks.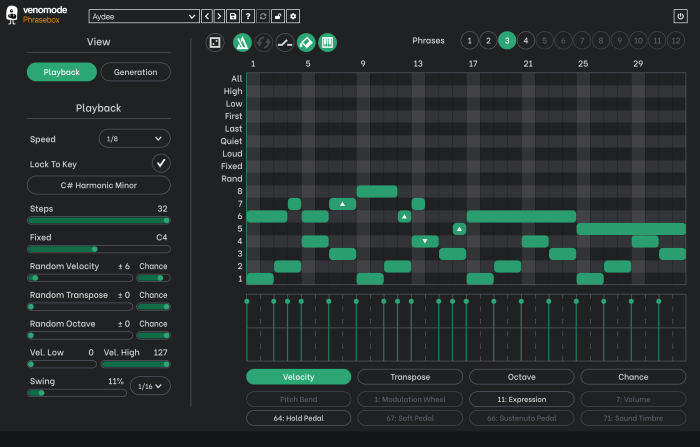 Turn simple chord sequences into expressive melody lines and musical phrases. Simply design your phrase in the piano roll, and Phrasebox will play back the pattern using whatever notes you input.

You have complete control over how the phrase is played. Select notes in pitch order, or use the special selectors – such as the loudest/quietest or first-played/last-played. Your phrase will be played back with sample-accurate timing.
Changes in Phrasebox v1.2
Added: Auto fill up to 8 notes based on input.
Added: Multi-track export for drag and drop based on row's MIDI channel.
Added: Keyswitching to change phrase number.
Added: Phrases can have own colour for notes and velocities.
Added: Note latch feature, for rapid prototyping with a MIDI keyboard.
Added: New theme with cleaner design and better contrast.
Added: Generator can now constrain to a maximum number of rows.
Added: Random velocity now has a chance option.
Added: Random transpose and octave, with probability, during playback.
Added: Helper screen showing piano roll keybinding from right click menu.
Changed: Sliders now have handles and multi-value sliders are more obvious.
Changed: Buttons now only activate with left-mouse clicks unless it has a menu.
Changed: Buttons with a right-click popup-menu now show an indicator on hovering.
Changed: Right-click no longer deletes notes (use Ctrl/CMD + left mouse, or select and press Del/Backspace).
Changed: CC generator slider labels now show actual CC number.
Changed: CC buttons draw faded if that CC has not envelope.
Fixed: Possible crash when duplicating tracks in demo mode.
Fixed: Possible hanging on Windows when adjusting multiple velocities.
Fixed: Possible note blips when looping in the DAW.
Fixed: Velocity sliders crashing for some users when dragging multiple.
Fixed: Hovering over velocity sliders sometimes highlights wrong one.
Fixed: Drag and drop crashing in rare cases.
Fixed: Piano roll sometimes not refreshing when notes deleted using keyboard.
Fixed: Phrase number parameter showing off by one in host.
Available for Windows, Mac and Linux, with support for VST, AU and AAX formats, Phrasebox is on sale at Plugin Boutique for $29 USD until the end of February. It is normally $59 USD.
The update is free to existing users of Phrasebox.