Phychic Modulation has announced the release of Phonec 2, the successor to the original Phonec synthesizer, which was inspired by the mystique of video logos you hear at the beginning of worn out VHS tapes.
Phonec 2 has all the great features of the original plus many new features and several improvements.

Phonec 2 is capable of producing a wide range of sounds such as vintage analogue tones, lo-fi synthscapes, ethereal pads, minimal techno sequences, retro synthwave leads and hard hitting synth basses. Phonec2 has an intuitive GUI that attempts to strike a balance between form and function, making it a very usable tool that can be a real inspiration to work with.

Apart from its unique character and excellent work flow, Phonec 2 has several interesting features that set it apart from the crowd.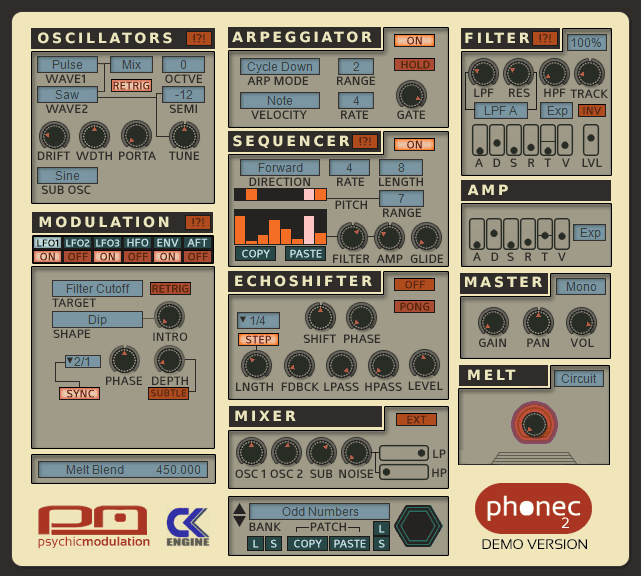 Phonec 2 features
Dual Oscillators that can be combined in unique ways.
Various oscillator combinations: Mix, Sync, Ring, X-wave, logic.
Sub Oscillator for beefing up the low end.
Analog-style oscillator drifting.
2-stage lowpass filter plus 1-pole highpass.
Melt: A unique feature that adds instant character to any patch.
Arpeggiator (synced to host).
Modulation Sequencer.
3 LFOs (2 monophonic, 1 polyphonic).
HFO (High Frequency Oscillator).
Various modulation types: AM, PM, FM, Filter FM.
2 Modulation Envelopes.
Aftertouch control of several parameters.
Echoshifter: Pitchshifting Dub Delay Unit.
External Audio Processing.
MIDI Learn and automation of any parameter.
Patch Randomization.
Double Click Parameter Reset.
Intuitive patch managment system.
Default bank of 128 patches.
Phonec 2 is available for Windows and Mac (VST/AU), priced at $59 USD.
More information: Psychic Modulation / Phonec 2