Aegean Music has released Pitchometry, a pitch shifting and pitch effects plugin for Windows and Mac.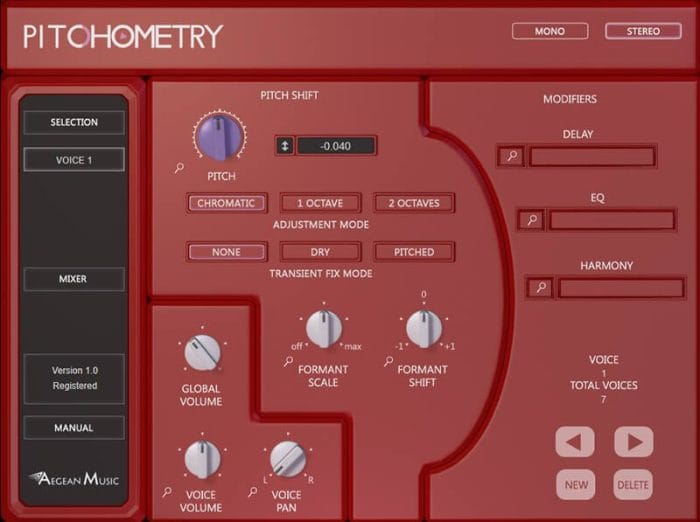 Pitchometry is a pitch shifting plug-in delivering quality and flexibility in an efficient framework that allows multiple independent pitch shifted voices. A single voice can become a chorus of voices or simply be given fullness with some soft layered voices. A monophonic instrument can be given multiple voices, transform a single flute into chords in real time.

Keeping a natural high quality sound is a high priority with Pitchometry and the formant options keep away the 'squeak' of high pitch shifts and keep low shifts from sounding dull and without fullness. Finally Pitchometry does not suffer from the usually drawbacks of standard pitch plug-ins. It works with chords and polyphonic signals, human speech, and noisy signals with ease.
Pitchometry features
Polyphonic as well as monophonic input supported.
2 Octave up or down range.
No limit on voices besides what the hardware can support.
LFO and Envelope modulation routing.
MIDI and host parameter inputs including MIDI key response.
Delay and Equalizer per voice.
Routing system can apply effects to multiple voices.
Mixer screen allows convenient mix adjustments.
Pitchometry for Windows and Mac (VST/AU) is available for purchase for $65 USD.