Pittsburgh Modular Synthesizers has announced that it is taking preorders on its Microvolt 3900, a semi-modular desktop synthesizer.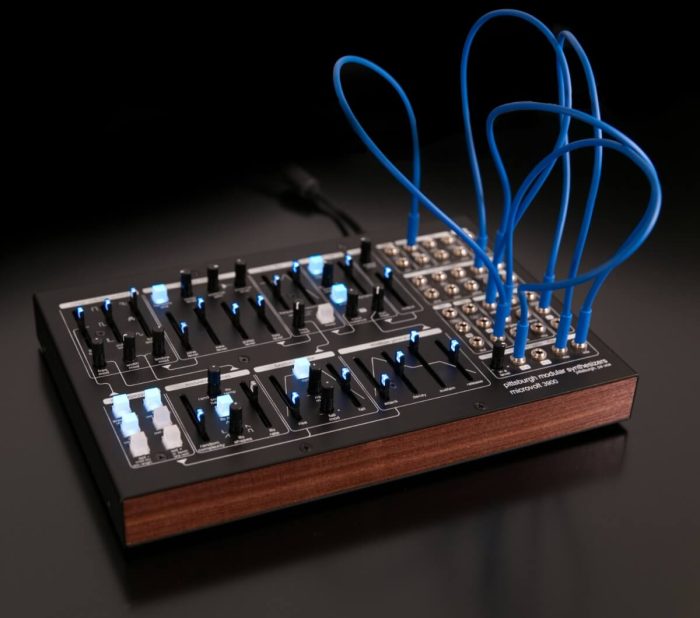 The synth features Pittburgh's new temperature stabilized, dual VCA oscillator core and dynamic VCA technology, offering a lively, organic sounding synthesizer full of energy.
A modern, semi-modular synthesizer inspired by the instruments designed by our heroes.

The Pittsburgh Modular Microvolt 3900 takes a new approach to building a raw, analog monosynth with a host of unconventional and inspirational features. Patch cables optional.
Microvolt 3900 features
Voltage controlled West Coast style wavefolder.
Switchable harmonically rich sine wave.
External preamp with independent 30x gain and output level controls.
Classic Pittsburgh Modular low pass filter with extended resonance.
Dynamic VCA with standard VCA and dynamic low pass gate modes.
Variable overdrive on output.
Multi-mode sequencing arpeggiator.
Chaotic random CV and gate generator.
Multi-tasking function generator works as a voltage controlled envelope, LFO, and oscillator.
Highly tuned ADSR envelope generator.
39-point Eurorack format compatible patch bay.
The Microvolt 3900 is scheduled to ship to on April 27th, 2018, priced at RRP $629 USD.
More information: Pittsburgh Modular Synthesizers