Planet Botch has announced the release of the Clonewheel VXK, a virtual instrument that emulates the sound of an early 1980s "K-type" analog clonewheel organ.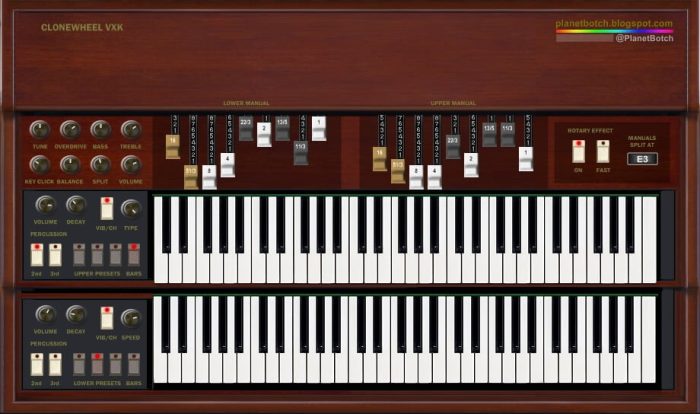 Modeled alongside the actual product, the Clonewheel VXK includes the highly distinctive electronic rotary effect, percussion with tonewheel-style monophonic envelope, classic vibrato/chorus, and the characteristic mild overdrive.
If you remember seeing a live Squeeze performance in the early 1980s, the sound of this VSTi will bring back some treasured memories. From 1980 through 1983, many bands used what was, at the time, acknowledged as the Hammond organ's heroic successor.

As it turned out, technology moved fast, and the sound of that analogue clonewheel organ was soon itself superseded by a certain digital marvel. But the Clonewheel VXK faithfully recaptures the lively and unmistakable early 1980s "K-type" analogue organ sound in a twin manual, 32-bit freeware VSTi.
Also available is the Vintage Ultima, an extremely versatile organ/synthesizer based on some of the most sophisticated analog organs of the 1970s.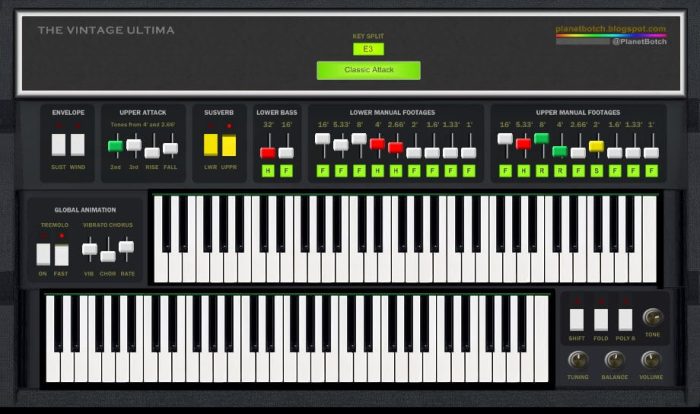 The tone voices are selectable per footage so you can get a huge range of sounds. The bass, when engaged, tracks the lowest note in any left hand chord. You can get any sound, from a church organ, through a string machine, to a YC45D style stage organ.
Inspired by some of the most sophisticated analogue combo organs and synth-organs of the 1970s, The Vintage Ultima is a freeware VSTi packed with powerful features and almost endless sound possibilities. This instrument replaces the old Rawgan, and is a dramatic upgrade on the original spec. You will bin your Rawgan when you hear The Vintage Ultima.
Vintage Ultima features:
Wind and decay envelopes.
Solid state type rotary tremolo channel.
Dual chorus section with vibrato.
Long forgotten "susverb" effect.
Versatile attack section with "swell" capabilities.
Variable foldback.
Full splitting with two virtual manuals and virtual bass pedals across one input keyboard, etc.
The Undercult is inspired by a Vox Continental Super II combo organ. It pushes the sound through a grungy, close-miked tube type rotary.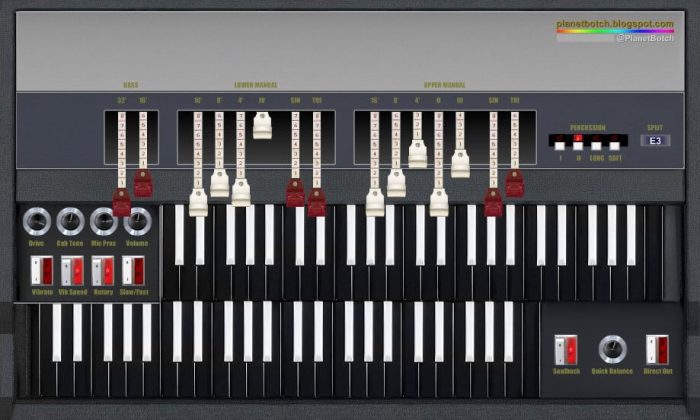 The Undercult has two independent, virtual 49-note manuals, splittable at any point across a 61-note keyboard span. Everything runs on the same MIDI channel – you just define your split point on the console and play everything from a single keyboard.

The Undercult additionally incorporates bass pedal sounds on the lower virtual manual. When engaged, the bass will always track and replicate the lowest note in any chord you play below the key split point, adding great substance and depth to a solo performance.
The plugins are available as a free download in 32-bit VST format for Windows.
More information: Planet Botch