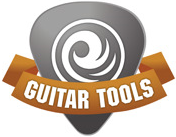 Planet Waves has released Guitar Tools, a suite of guitar tools developed by Audiofile Engineering.
Guitar Tools is the ultimate hand-held utility kit for guitar players of any style or skill level, brought to you by Planet Waves, one of the D'Addario company's family of world-renowned musical instrument accessory brands.

Enjoy the full functionality of the Chordmaster and Scale Wizard apps, the core features of ProTune and ProTempo, plus reference tools that make it easy to find the nearest music store or instructor wherever you may roam.

Developed exclusively for iOS by the minds at Audiofile Engineering, Guitar Tools packs a wealth of easy-to-use, professional-grade guitar utilities into one elegant application for your iPhone or iPod touch.
Guitar Tools features
CHORDS — Explore a library of more than 7,000 guitar chords by simply tapping and strumming the touch screen. View chords in every position up and down the guitar neck and hear each one played back in pristine audio. There's even a "lefty" mode for the oft-neglected southpaw.
CHORD FINDER — You know how to play it, but what do you call it? Select frets and finger positions to discover the proper name for your chord.
SCALES — Improve your technique by choosing from thousands of scales, modes and arpeggios to practice. Try multiple positions and alternate tunings to boost your versatility. Use "big stretches" for unique, challenging fingerings.
TUNER — Keep your instrument in tune with a professional-grade digital tuner, powered by Audiofile Engineering's precise AETune™ pitch detection technology. Choose between strobe or needle interface and access dozens of presets.
METRONOME — Keep in time with a hyper-accurate and visually stunning digital metronome. Set tempos numerically or by tapping the touch screen. Choose from multiple sounds and time signatures.
TEACHERS NEAR ME — Looking for lessons? Access an international list of music instructors and find the ones nearest you. Powered by The Lesson Room, D'Addario's online hub for music education, resources and valuable content (www.thelessonroom.com).
STORES NEAR ME — Broke your last string? Need some picks? Find a nearby music store in seconds, whether you're out on tour or close to home.
The Guitar Tools App is available as a free download from the iTunes App Store through 17 July, 2010. It will then be available to purchase for iPhone and iPod touch for $8.99 USD. Android and iPad versions coming soon.
More information: Planet Waves / Guitar Tools App