Platinum Loops has released Metalcore Acoustic, an extensive acoustic guitar sample pack.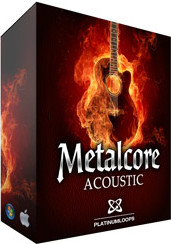 This 1 Gig sample pack boasts 20 melodic metal song ideas with 190 fully stemmed out loops, expertly mastered from these intricate guitar arrangements. We've brought together a darkly spectacular mix of steel 12 string and classical nylon string guitars with rich, interweaving counter melodies, lush atmospheric chord structures and hypnotic rhythms. These soul stirring acoustic guitar loops feature deeply haunting melodies. Whether you produce Metalcore, Melodeath, Death Metal, Grimecore or just want some powerfully inspirational guitar arrangements, this loop pack will spark your creativity and keep you busy with ideas.

We used a Fender Classical nylon string guitar alongside a Simon & Patrick 12 string guitar to create these uniquely rich textures and tones. The SE Electronics Z3300A condenser mic was fed through the Focusrite Liquid Channel mic pre-amp in order to capture the clarity of these world class instruments and performances. To reflect the genres that suite these samples we were sure to create plenty of 3/4 and 6/8 rhythms as well as standard 4/4 grooves. We double tracked most of the chord sequences and hard panned each side to allow you more control over the stereo width of the samples. We put a huge amount of work into creating these unique guitar loops and we think it shows. The 5 minute demo features example mixes from only about half of this sample pack so this gives you an idea just how much inspiration you can expect from Metalcore Acoustic. Tempos range from 75 to 189 bpm.
Metalcore Acoustic is available to purchase for $79.95 USD.
More information: Platinum Loops