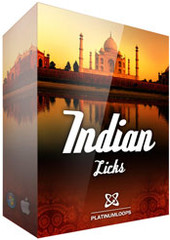 Platinum Loops has released Indian Licks V1, a collection of acoustic live loops and samples.
Achieve ultimate enlightenment with Indian Licks V1. This hypnotic sample pack takes you on a journey through the farthest reaches of India with an enchanting collection of loops and samples designed to spice up your creativity. Featuring fully mixed cuts of music that offer sitar, surbahar, bulbul-tarang, mandozither, bamboo flute, tabla, vocals, dilruba, field recordings and much more.

Align your Chakras with these deeply spiritual sounds that span the ages using traditional ragas right through to modern Indian fusion with hints of jazz and latin vibes. Load some of these gems into your DAW, mix them with a fat hip hop groove and allow your creative aura to blossom. Tempos range from 73 to 137 bpm. All samples are mixed and mastered edits with no single instruments. Multi track Mix elements are not available.
Indian Licks V1 is available to purchase for $69.95 USD.
More information: Platinum Loops