Platinum Producer Samples has released a new collection of high quality drum sounds by Michel Rostaing with Platinum Producer Hip Hop Drums, an instrument library for Native Instruments Kontakt.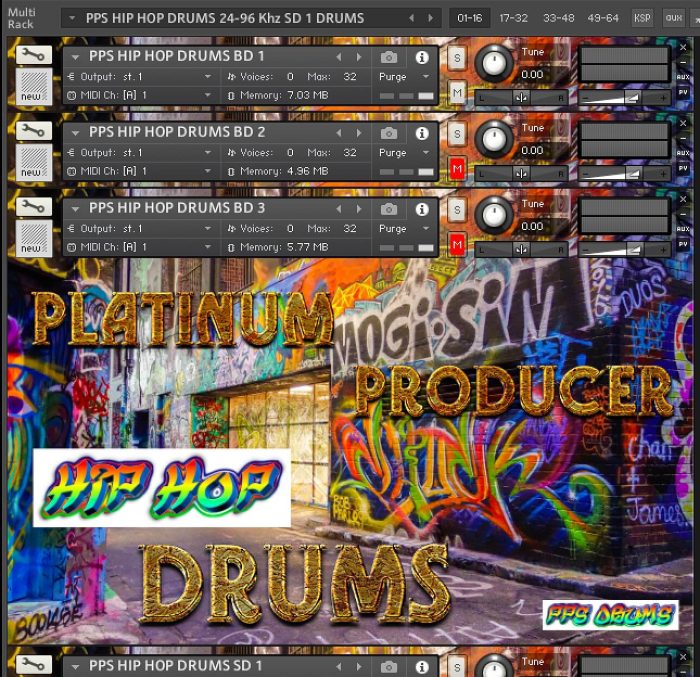 The recording of these drums sounds was done in a pro studio in Nashville USA, using 15 mics through top analog gear and console at 24-bit/96kHz for maximum clarity, punch and dynamic range.
For the first time, get access to real platinum producer drum sounds already processed and get the acoustic drum sound that you hear on hip hop platinum hit songs on your own tracks easily.

These drum sounds are so punchy, clear and realistic that they will cut immediately through your mixes without any tweaking! This library has only real acoustic drum sounds! No drum machines samples.
Platinum Producer Hip Hop Drums features
Kicks: Ludwig Rocker 16×22 (BD1), Ludwig Classic 14×22 (BD2), Ludwig Classic 16×22 (BD3).
Snares: Mapex 6-5×14 Maple Deluxe (SD1), Ludwig 5×14 1970 Supraphonic (SD2), Pork Pie 6-15×14 Big Black (SD3).
Toms: Ludwig Classic 8×10 (High), Ludwig Classic 9×13 (Mid), Ludwig Classic 14×16 (Low).
Hi-Hats: 15 Zildjian Avedis.
Crash: 18 Paiste 602 Thin Crash (CRASH 1), 20 Sabian AA Raw Bell Crash (CRASH 2).
Ride: 21 Sabian HH Raw Bell Dry Ride (RIDE 1), 20 Paiste Signature traditional Medium Thin Ride (RIDE 2).
3 different mappings with 3 different bass drums, 3 different snares, a set of 3 toms, hi hats, 2 crash cymbals and 2 ride cymbals.
12 Multi Patches with the 3 different snares and snares layers combination with 2 or 3 snares triggering at the same time.
Requires full version of Kontakt 5.8.1 or higher.
Regularly $24 USD, the library is on sale for only $12 USD in an introductory sale. The offer expires April 30th, 2019.