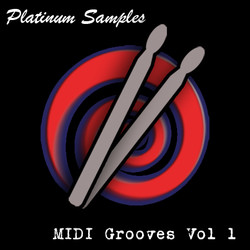 Platinum Samples has released Platinum Grooves Volume 1, a multi-format library featuring over 2,170 MIDI grooves.
Featuring the MIDI Grooves included with our Classic Drums, Evil Drums and Glamoflauge QuickPack sample libraries, Platinum Grooves Volume 1 includes grooves played by Pat Wilson (Weezer), Rob Ahler (50 Foot Wave) and Matt Shapiro (Warner Drive) in varying styles from classic rock and punk to fusion.

This multi-format collection includes grooves formatted for BFD3®, BFD2®, BFD Eco®, EZDrummer®, Superior Drummer®, Addictive Drums®, Cakewalk® Session Drummer™, Steven Slate Drums 4 as well as General MIDI Standard MIDI Files which can be used with any GM compatible drum software or hardware — this includes drum machines and synthesizers which have drum sounds.
The library is available for purchase for $35 USD.
More information: Platinum Samples / Platinum Grooves Volume 1