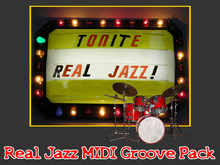 Platinum Samples has released the Real Jazz MIDI Groove Pack, a collection of over 2,100 actual live, jazz grooves recorded as a real performance on an electronic drum set at specific tempos.
Platinum Samples and John Emrich are two of the foremost producers of drum samples in the world, with over 50 years of experience in the professional music industry, and now they have turned their attention to developing MIDI Grooves.

Real Jazz was recorded over a five-day session by John Emrich on a Yamaha DTXtremeIII Special electronic drum set. No quantization, mouse clicks, or pastes were used – we leave that to you. Use this as the starting point for all your future jazz needs, as well as a creative catalyst for other musical styles. Real Jazz is like having your own personal jazz drummer.
Real Jazz features
2,121 MIDI Brush & Stick Grooves.
BFD2 Palettes, BFD 1.5 Bundles & General MIDI Standard MIDI Files all included (works with all VST, Core Audio & GM compatible drum software and hardware).
Includes presets for FXpansion Jazz & Funk and Platinum Samples Jim Scott Volume 1 expansion packs for BFD.
Includes 2 Beat, 3/4, 5/4, Walk, Shuffle, Ballad & Jungle grooves played with sticks & brushes at different tempos.
The Real Jazz MIDI Groove Pack is available for purchase for $35 USD.
More information: Platinum Samples / Real Jazz MIDI Groove Pack