Plogue has announced the first title in a new series of chipsynth synthesizer instruments.
PortaFM is a unique 2 operator FM synth with a quirky feature set. It offers a bit-accurate reproduction of a vintage low-cost 2 operator FM chip (OPLL) inside a new synthesizer design.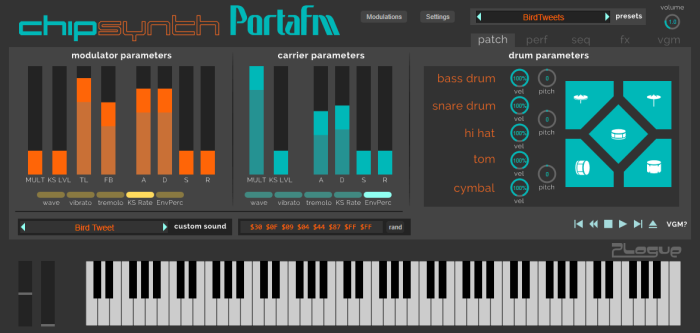 The late 80's 'PSS' series was cheesy and made of plastic but had a very unique sound which was lost to time. Some of the most well known examples of synthesizers in this series include the PSS-140, PSS-270 mini keyboards and the SHS-10 keytar. Not willing to just copy the past, we designed a NEW synthesizer that features the same sound generation found in these synthesizers, but this time with much more processing power to control and modulate its features, all in a convenient virtual instrument form.

PortaFM uses a pair of cycle-accurately emulated OPLL (YM2413) FM chip cores for its main synth engine, and another core dedicated to the the drum sounds, all of which can be layered creatively.

The unique 'lofi' quality of the OPLL was never recreated this accurately before. Plogue's experience of more than 15 years studying vintage digital sound generators was pushed to its limit. Brand new mathematical models were built using our custom Hardware-assisted systematic testing procedures by our in house reverse engineering team in Montreal.

Oh, and of course, it does not use ANY samples!
PortaFM will soon be available for 64-bit macOS and Windows in VST, AU, AAX plugin formats as well as a standalone application. It will cost $29.95 USD.
Other future chipsynth series plugins are FC, MD, 64, and SFC.
More information: Plogue