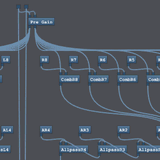 Plogue has release version v0.97 of Bidule, a modular audio software for Windows and Mac.
The brainchild of Plogue Art et Technologie, Bidule is a cross-platform application that is gaining recognition world-wide as the new standard in modular music software.
Changes in Bidule v0.97
Added parameter linking of all parameters when selecting a bidule in the source and target tree of the Parameters window.
Added load and save of Map files to the MIDI and Sample Map UI.
Added Arpeggiator from chipsounds.
Added MIDI CC Creator (Multi) and CC Extractor (Multi).
Added MIDI Comparison Filter.
Added MIDI Gate.
Added MIDI Basic Delay.
Added Variable (Int).
Added multiple i/o configurations for Audio Dummy.
Added 176400 Hz sample rate.
Increased speed parameter range in MIDI Buffer, File Looper and Player.
Basic Audio Buffer 2: added option to save mono files.
Plugin mode: added possibility to have different FFT settings than standalone.
Value List: added parameter to save current position.
Windows x64: added possibility to have a different VST folder for 64bit
Many Bug Fixes, details here.
Bidule is available to purchase for PC and Mac (standalone/VST/AU), priced at an "early bird" price of $75 USD excl. VAT.