Plughugger has announced the release of its latest sound library for the Omnisphere 2 virtual instrument by Spectrasonics.
Dirt is the latest entry in a series of soundsets that focuses on one piece of interesting hardware, records its sound and recreates its characteristics in Omnisphere, and takes it into new directions that would never be possible with the original hardware.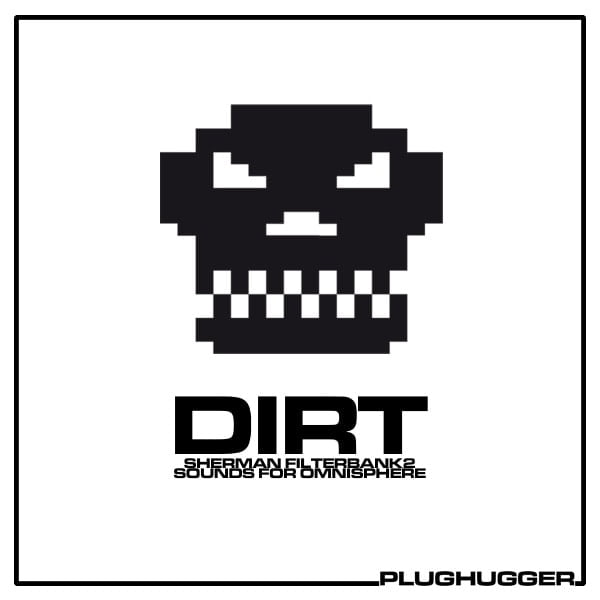 This time around we departed from focusing on a chosen synthesiser, and set our attention on one of the most influential sound processors of the last two decades: the Sherman Filterbank. While on paper being a filter module – the Sherman Filterbank is a classic when it comes to roughen up a sound and give it a dirtier edge. Few hardware have reached the mythical status of the Sherman – and rightly so: it is totally unpredictable, almost impossible to tame – but can take something ordinary and turn it into something truly special.

For Dirt – As the source material we mainly used traditional synth waveforms, and to give them a rhythmic context we added a few classic 909 drum sounds as well.

We recorded the most important results that came out from the Sherman Filterbank and sent them into Omnisphere, where we turned them into new sounds that could never be done with the original. Apart from the 151 single presets, we combined another 50 sounds into complex multi sounds.
Dirt features
56 Bass Arpeggios/Sequences.
18 Drum / Percussion.
23 Pads / Synth strings.
27 Bass sounds.
11 Synth sounds.
14 Textures and soundscapes.
2 Effect sounds.
50 Multi sounds.
The collection also includes 81 INIT sounds for each sound source available in Dirt (many of them are pitch variations of the same sound).
Dirt is on sale for only 9.90 EUR until May 13th. Use coupon code DIRTYSHERMAN at checkout to get the discount. The regular price is 19.90 EUR.
More information: Plughugger