Plughugger has announced the release of Elektroniq, the 7th collection of sounds in the series of soundsets for Omnisphere 2 where Plughugger takes a synthesizer, samples it and recreates its characteristics in Omnisphere, taking it into new directions that would never be possible with the original hardware.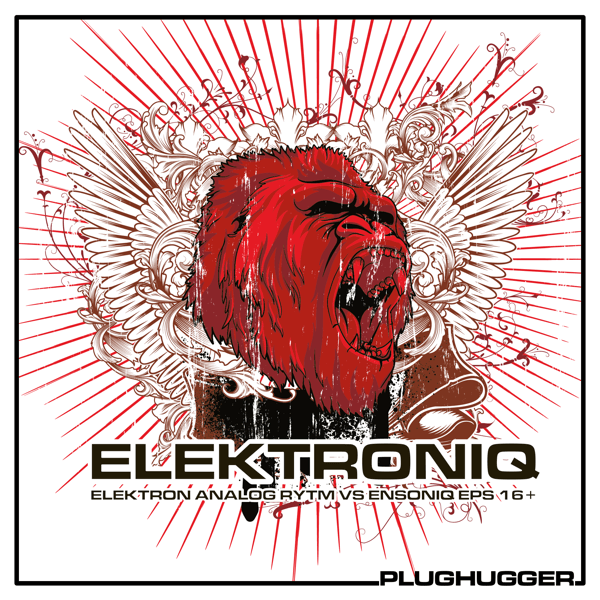 The concept of Elektroniq is based on analog sounds taken from the Dual VCO analog synthesizer engine of the Elektron Analog Rytm. But instead of just recording the sounds and oscillators into Omnisphere, they let the sounds first take a detour through one of the defining hardware samplers from the 1990s: the Ensoniq EPS 16+.
When sampling the Analog Rytm, Plughugger did the old re-pitching trick (a way back then to save memory), by recording the sounds at a higher pitch then re-playing the sounds at a lower, correct pitch. This technique is excellent to give that old-school sampler vibe.
The Elektron was sampled in multiple sample frequencies, from the lowest 11 kHz all the way up to 44 kHz. The sounds were sampled with the anti-aliasing filter set to OFF, so all gritty details was captured.
As a final twist, they also recorded some of the samples with the built-in effects of the Ensoniq set to maximum wetness.
Apart from the analog synth sounds, Plughugger also recorded a handful of drum sounds from the Analog Rytm, plus a handful of old-school speech synthesizer vocal phrases. The result is a soundset with lots of character and attitude. Together with the single presets, they combined another 50 sounds into complex multisounds.
Elektroniq contains 222 sounds in the following categories:
49 Arpeggios/Sequences.
15 Drum / Percussion.
14 Robotic Voices.
21 Pads / Synth strings.
30 Bass sounds.
30 Synth sounds.
13 Textures and soundscapes.
50 Multi sounds.
The pack also includes 114 INIT sounds for each sound source available in Elektroniq (many of them are variations of the same sound).
Regularly 19.90 EUR, the sound library is available for the intro price of 9.90 EUR with coupon code 16DIRTYBITS at checkout. The offer expires May 5th, 2019.
More information: Plughugger