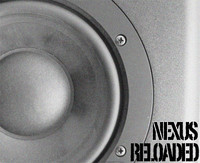 Plughugger has released Nexus Reloaded, a new sound expansion for the Nexus 2 synthesizer by ReFX.
Nexus Reloaded is a collection of over 400 new presets for the Nexus 2 software synthesizer that are constructed with the built-in waveforms included with Nexus 2.

The purpose of Nexus Reloaded was to see how far you can push Nexus 2 with only the parameters available for normal users. Without using additional samples or access to all the hidden parameters, you can actually take Nexus 2 quite far in terms of sound design.
Nexus Reloaded features
423 presets divided into the following categories: Arp Bass: 136, Arp Lead: 62, Bass: 95, Gates: 21, Lead: 55, Pads: 54.
The style of the presets span from screeching monsterleads to wobbly basses, cute pads and basslines compressed so hard they could crush bones. Nexus Reloaded is a collection of presets with sounds for trance, 80s pop, modern pop, techno, electro and a bunch of other styles we absolutely cannot classify – but were to cool to be wasted.
The sounds were designed to be firestarters and are meant to be used as sources of inspiration.
Nexus Reloaded is available to purchase for 9.90 EUR.
More information: Plughugger