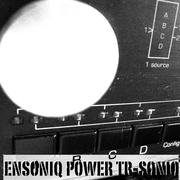 Plughugger has released TR-SONIQ, a new sample library for Geist, Guru, Maschine, Akai MPC and WAV formats.
While the mad scientists at Ensoniq are long gone, their legacy remains in the hands of producers who still can't part from the sound of their aging samplers.

TR-SONIQ is a sound library of TR909 and 808 drum machines colliding sonically with a refurbished Ensoniq DP/4 effects unit. It's big, dirty and noisy, and as with all Ensoniq products, it got a character rarely found among the polished sound processors of today.

The classic drum machines from Roland are constantly being processed by SSL consoles, Distressors or software compressors and distortion units such as Sonalksis TBK3 and Ohm Force Ohmicide – the sound of Ensoniq brings a new flavor to the classic sounds.

With TR-SONIQ we have given the old drum sounds full treatment, drenching them in Ensoniq goodness, building new processing chains from scratch, sampling the results and finally converting and dithering them into 16 bit samples that can be used with practically any hard- or software sampler.

The library consists of 318 separate samples all organized into categories. There are also ten pre-made drum kits for Fxpansion Geist and Guru, Native Instruments Maschine and Akai MPC.
TR-SONIQ is available to purchase for 5.90 EUR.
More information: Plughugger