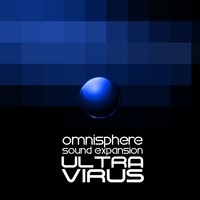 Plughugger has announced the release of UltraVirus, a sound expansion of 150 new sounds for the Spectrasonics Omnisphere aimed for modern dance music.
In the second installation of the Sound Expansion series for Omnisphere, Plughugger turn their focus to the mighty german synthesizer the Virus.

The Virus is quite possibly the most successful synthesizer in modern time. It was first released in 1997 and although there have been hardware updates since, they all build upon the same black-red synthesizer in 1997.

With Omnisphere you get a nice selection of 29 waveforms sampled from the Virus Indigo. The Indigo is the compact keyboard version of the of the Virus B, which many people regard as the best sounding Virus ever.

Thanks to the excellent sound design tools in Omnisphere Plughugger turned the waveforms of the Virus into something new entirely, and the final result was 100 new arpeggios, basses, plucks and pads designed to inspire modern dance music production.

As a bonus, there are 50 additional presets based on the excellent virtual analog oscillators in Omnisphere.
The sound library costs 9.90 EUR.
More information: Plughugger / UltraVirus