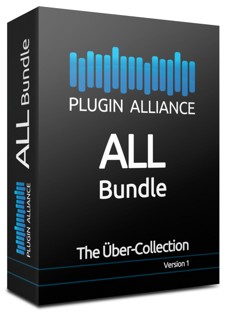 Plugin Alliance has announced the availability of the ALL Bundle, a discounted 'Über-Collection' of all its native plug-ins for Windows and Mac.
So what's the deal? Well, it's a big deal, actually. And when we say big we mean big… for Plugin Alliance ALL Bundle represents remarkable value by bundling all 33 remarkable plug-ins available at the present time from highly-respected Plugin Alliance partner brands Brainworx, elysia, Mäag Audio, noveltech Audio, ProAudioDSP, SPL, and Vertigo, covering everything from audio analysis to dynamics, equalisation to mastering, and specialist processing — priced to go at $2,388.00 USD. Though that's an amazingly attractive 58% saving on purchasing those superior-sounding plug-ins separately for $5,658.00 USD, that's not all…

Prospective purchasers can choose to spread spending that discounted $2,388.00 USD total cost over 12 monthly instalments of $199.00 USD or six monthly instalments of $398.00 USD — all interest-free, of course! Choose whatever best suits your pocket. Either way, 30-day lease licenses for all plug-ins are issued upon the first monthly instalment being paid, with repeat 30-day lease licenses issued for each monthly payment made thereafter until all six or 12 payments are duly completed, after which unlimited full licenses are automatically issued. Even better, background checks are not necessary. Lease licenses simply stop working after 30 days if a user fails to pay the next instalment. Can't say fairer than that now, can we?

But what happens if you're genuinely short of cash and can't afford to make a payment at the end of a month? Not to worry. We understand that this sometimes happens, so — since you also have up to eight months in which to complete the six-payment scheme or 15 months in which to complete 12 payments — you are free to take a payment break and reactivate your plug-ins for another 30 days as soon as you pay the next instalment. Fair enough, eh? Fairer still, anyone already owning any number of Plugin Alliance plug-ins will be automatically recognised as such when logging into the Plugin Alliance web store so that they can always upgrade to the complete collection at the best possible price. Hypothetically speaking, say someone has half of the available plug-ins purchased and installed so far. Then the price to complete their collection would be approximately $1,200.00 USD — again, payable over six or 12 monthly instalments. In reality, of course, the web store always calculates an exact personal price accordingly. Couldn't be simpler, surely?

So who better to formally introduce Plugin Alliance ALL Bundle than Plugin Alliance CEO Dirk Ulrich himself: "When we started Plugin Alliance, many users approached us and asked about an easy way to finance what they consider to be the best-sounding native audio plug-in collection available. After establishing our own license system in 2012, we are now able to let users experience the complete collection from day one while paying Plugin Alliance ALL Bundle off over six or 12 manageable payments. After putting years into the development of these plug-ins, I am proud and pleased to announce availability of Plugin Alliance ALL Bundle today!"

There you have it, then. Thanks to Plugin Alliance ALL Bundle, there has never been a better time than now to treat your recording, mixing, and mastering workflows to the best native plug-ins money can buy and also keep your bank manager happy while you're at it! MIX NOW. PAY LATER.
The ALL Bundle is available to purchase for $2,388 USD.
More information: Plugin Alliance