Plugin Alliance has announced the release of two new audio effect plugins from Brainworx.
bx_delay 2500 is a creative delay that offers glitch-free delays that are perfect for automated delay time changes for stunning non-static sounds.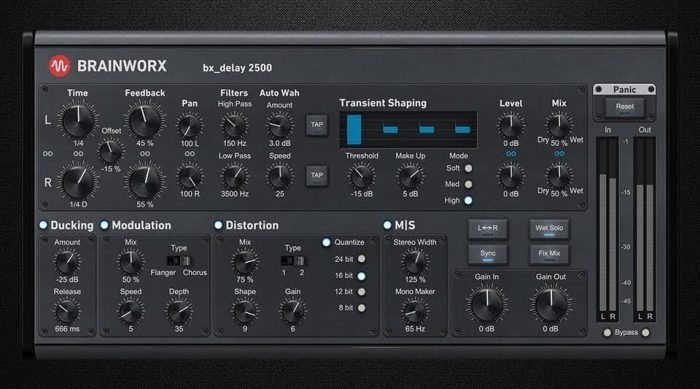 Designed from the ground up, the plugin features a clear, intuitive interface that allows you to get to the delay effect you want quickly.
bx_delay 2500 has everything you need to create everything from simple delay patches to experimental soundscapes and crazy cool beats. This is your new go-to delay.

By adding an extensive suite of effects to bx_delay 2500 Brainworx have created the perfect environment in which to create wild delay patches. Distortion, chorus and ducking have all been included to sculpt your perfect delay effect.

Using the now famous Brainworx M/S processing you can not only increase the width of any patch but critical low frequencies can also be controlled. The Mono Maker allows you to ensure everything below a specified frequency is perfectly in the center of the mix while your stereo image is left intact.
bx_delay 2500 features
Get to the delay effect you want quickly using the clear and logically structured interface.
Achieve unusual results by adding chorus, distortion and ducking to the delay line.
Take control of your delay effects with built in M/S processing.
Utilize the unique transient shaping feature to control the dynamic signature of the delay signal.
bx_delay 2500 is on sale for $149 USD (regular $199 USD).
The bx_2098 EQ plugin recreates the sound of a classic British EQ with the addition of Brainworx world class TMT and MS processing.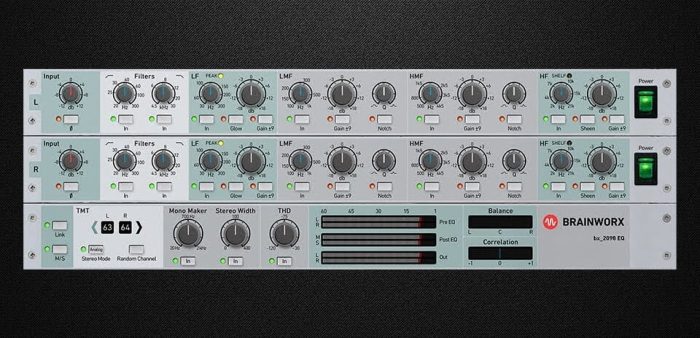 bx_2098 EQ is modeled after the iconic Amek 9098 EQ, allowing you to harness the power and tone of this classic British EQ in your own mixing and mastering sessions in Mono, Stereo and M/S.
Full Brainworx M/S capabilities mean the bx_2098 EQ is ready for modern sessions. Manipulate the Mid and Side information in your audio completely independently to create width and punch. Control your critical low end mix with the famed Mono Maker and isolate the Mid/Side information to focus on your processed sound.

By utilizing the Tolerance Modeling Technology (TMT) from our bx_console products we have created an EQ that allows you to use 20 truly unique channels across your mix. When applying these different models to stereo versions of the plugin you can induce serious width to your sounds whilst simultaneously imparting the real character of analog hardware.

Some EQs lack character and tone but the bx_2098 EQ employs several features that ensure you get the real analog experience. The THD parameter is perfect for dialing in just the right amount of controlled distortion. This is faithful to the original circuitry we modeled and helps you reproduce results until now only possible with real hardware.
bx_2098 EQ features
An astoundingly accurate model of a classic British hardware EQ in your DAW.
Use twenty truly varied channels of the bx_2098 EQ across your mix using patent-pending TMT.
Introduce analog style harmonic distortion using the THD control.
Full M/S capabilities give you absolute control over any element in your mix.
bx_2098 EQ is available at the intro price of $199 USD (regular $249 USD).
Both plugins are also available as part of Plugin Alliance's new PickPack, a new way of buying and owning plugins.
Select any 10 plugins you like from our web site – including the 2 brand-new Brainworx releases – and pay them off in 29 monthly rates of just $29. After you´re done you own them for life.

Save up to 70% with your selection. Credit Card payments only at this point, PayPal payment option to be added soon.
More information: Plugin Alliance