Plugin Alliance has announced the release of the ENGL Savage 120, an audio plugin that is designed to deliver the powerful tones and satisfying dynamics of the legendary Savage 120 studio amp head from ENGL.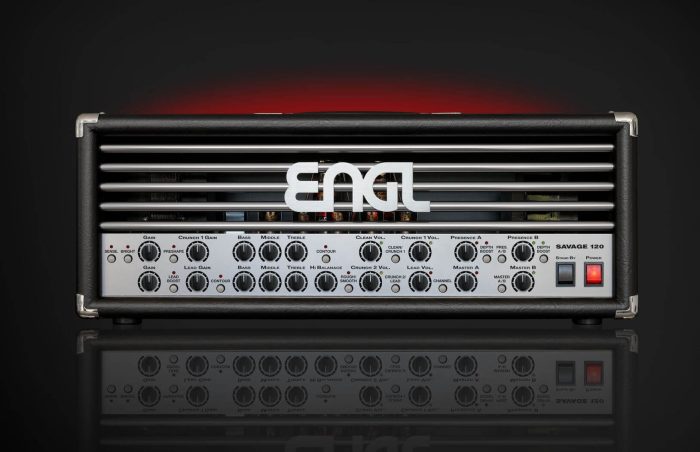 The Savage 120 Amplifier embodies ENGL's rich legacy of creating metal machines for delivering truly punishing tones, with clear dynamics and tremendous sonic variety.

It's a long time studio favorite of artists like Exodus' Gary Holt, Borgir, Evanescence, and even Brainworx' own Dirk Ulrich, who has called it "one of the easiest amps to record with" and "THE recording amp for the hard-rocking musician."

The Savage 120 set new standards in modern Rock music with its unique sound. With its remarkably fast attack and quick responsiveness to the player's dynamic choices, the secret to the Savage's success is in its midrange, which cuts through a mix without ever sounding harsh.

Although the ENGL Savage 120 was used in many famous Rock productions, make no mistake: this amp can deliver a HUGE variety of tones, ranging from crisp and clean, to crunchy, to heavy f***ing Metal.
ENGL Savage 120 features
4 Channels: Clean, Crunch 1, Crunch 2 and Lead, assigned to two main channels.
2 separate 3-Band EQ for sculpting tones.
4 dedicated Gain pots with a separate volume control for each channel.
Rough/Smooth mode selector for the Crunch 2 and Lead Channels.
Sensitivity switch, Bright switch, Lead Boost, Contour switch, and Hi Balance control.
FX Rack includes host-syncable lo-fi delay, noise gate, tight and smooth filters, power soak, pre and power amp bypass.
105 high-end Recording Chains to choose from.
Scalable User Interface.
Recording Chain ON / OFF Parameter.
Recording Chain detailed Info.
Available in VST/VST3, AU and AAX formats, the plugin is on sale for the intro price of $129.99 USD for a limited time (regular $149 USD). It is included in the MUSICIAN and MEGA Bundle at no extra cost.
More information: Plugin Alliance