Plugin Alliance has announced a sale on the Classic Guitar Tones Bundle, offering a bundle of 5 Brainworx plug-ins at over 62% off.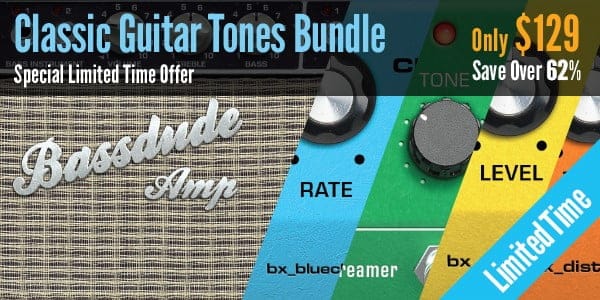 The Brainworx Classic Guitar Tones Bundle provides a remarkable array of useful guitar tones by combing faithful emulations of what could be called the father of Rock n' Roll guitar amps and four of the best loved stompbox effects ever made. Many guitarists favor having a clean warm amp and adding tones and colors via a pedalboard full of effects. Some amps just seem to "take pedals well" and the Classic Guitar Tones Bundle delivers that tone flexibility in a suite of native plugins.

The Fender® Bassman® is known as one of these "pedal friendly" amps. One of the most iconic guitar amplifiers ever made, its design was the basis for Jim Marshall's celebrated JTM45 amp, which went on to influence countless other amp designs. The Brainworx bx_bassdude captures every bit of the original's tone and feel as well as its ability to respond well to pedals.

In addition to the bx_bassdude, the Classic Guitar Tones Bundle includes plugin emulations of four iconic stompboxes: bx_greenscreamer, which is based on the Ibenez® TS808 Tube Screamer® overdrive, bx_yellowdrive, which is based on the Boss® SD-1® overdrive, the bx_distorange, which is based on the The Boss DS-1® distortion, and bx_bluechorus2, which is based on the Boss CE-2®.

You'll be amazed at what a wide range of tones you can get with just these five plugins. Check out the sound examples below, as well as the video, or download the demo to hear for yourself! All plugins in the Classic Guitar Tones Bundle are available as 14-day full function demos — no dongle required!
The bundle is available for purchase for $129 USD until October 15th, 2015 (list price $345 USD).
More information: Plugin Alliance