Plugin Alliance has announced the release of SPL IRON, a plugin emulation by Brainworx of SPL's IRON mastering compressor.
Released in 2015, the hardware counterpart brings a melodic-sounding, transparent compression, inspired by the vintage compressors of the radio era.
Iron is a variable-bias tube compressor, often called a "Vari-Mu" design. Unlike most standard variable-bias designs, which use the bias of a single tube for compression, Iron uses a dual circuit topology. This means, the incoming signal is split between two tubes via a specially designed Mu-Metal iron transformer, running in parallel and then recombined. One tube is a 12AX7/ECC83 and the other a 12AU7/ECC82. Each tube yields a slightly different compression curve and feel.

The Attack and Release parameters have six different settings ranging from Slow to Fast. The times are not constant, they vary according to the Rectifier circuit selected: There are six different Rectifier settings available with different diodes (Germanium, Silicon, LED, mixed).

Mastering is not the only domain where the IRON sets new standards. It can also be used to process subgroups or individual signals, like vocals, bass, guitar, strings, etc.
SPL IRON features
Variable Bias Tube Compressor.
Parallel Dual Tube Circuit.
Custom Mu-Metal Iron Transformers.
Feed-forward resistive Vactrol-Opto-Isolator.
Six different Rectifier settings available.
Sidechain that allows you to choose between Off, four sidechain-filter presets or an external sidechain signal.
In Link mode, the Threshold, Tube Bias, Attack, Release, and Rectifier parameters, as well as the Sidechain EQs, are controlled with the right side (channel 2) of the unit.
Master out features an additional, Passive Equalizer with two fixed sounds.
Brainworx plugin only features such as TMT, M/S Processing, Mono-Maker and Stereo Width, Parallel Mix and Headroom.
The SPL IRON plugin is now available for the intro price of $229 USD (regular $329 USD). Plugin Alliance users can get an additional discount (check your email for discount coupon).
Also available is a new plugin that offers a versatile collection of audio measuring instruments in one toolset.
The SPL HawkEye plugin has been developed with the highest precision in mind to set a new standard in audio analyzing.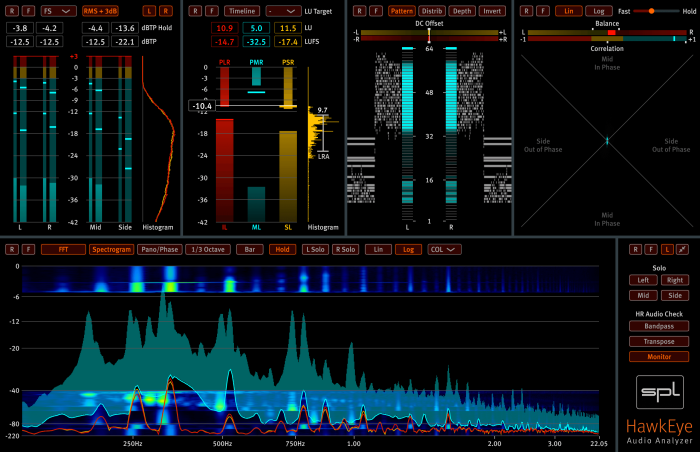 Unique features like bit-depth analysis and high-frequency monitoring offer a new window into the world of high-resolution audio recordings. The user experience follows aviation industry guidelines for designing cockpit instruments. Therefore, HawkEye presents all information uncluttered, minimizing eyestrain over extended periods of use.

HawkEye's main view shows all measurement instruments within a single window, yet this is only one mode of operation. To be as flexible as possible any instrument can be undocked in its own resizable window by a simple double-click, and then freely arranged on your screen!
SPL HawkEye features
Level Meter: True Peak Meter for L, R, Mid & Side with different scales, including Katz-Scales; RMS Metering for L, R, Mid & Side; TPL Histogram.
Loudness Meter: Peak to Loudness Ratio (PLR), Peak to Momentary Loudness Ratio (PMR) and Peak to short-term Loudness Ratio (PSR); Integrated Loudness (IL), Momentary Loudness (ML) and short-term Loudness (SL).
Display: Color-coded timeline display to master against a set LU target; Loudness Range Histogram.
Bit Monitor: 64-bit display; Bit-Depth check – Determine real bit-depth; Bit pattern and distribution timeline; Direct Current (DC) offset meter (up to -40dB).
Vector Scope: Goniometer in linear and logarithmic view; Luminescence slider; Balance meter; Correlation meter.
Analyzer: Spectrum- and 1/3 Octave-Analyzer as well as Phase-Panorama-Display: Spectrum (FFT) with 4096 bands achieving a high frequency and amplitude precision; Spectrogram; Panorama- and Phase-Display with a resolution of 4096 frequency bands; 1/3 octave analyzer; Linear and mouse draggable logarithmic frequency scales; Mouse draggable dB scale to change the displayed amplitude ranges.
Regularly $249 USD, the plugin is on sale for an introductory price of $149 USD. Again, Plugin Alliance users check your email to get a discount coupon for even greater discounts.
Both plugins are also part of the Pick Pack, which allows you to select any 10 plugins for $29 USD per month for 29 months. Current PickPackers and Heavy Hitters will receive special codes per email.
More information: Plugin Alliance