The Plugin Alliance has launched a Vertigo VSC-2 Give-Away, a limited time chance to win the 6,000 US$ "Golden Unit" VSC-2 which was modeled for the VSC-2 plug-in.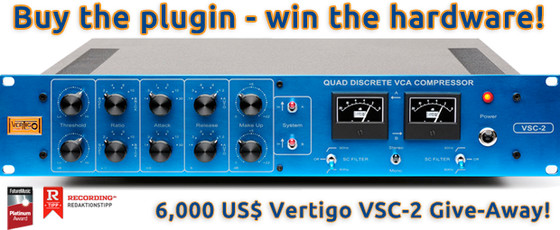 When we model a hardware unit to turn it into a multi-award-winning plugin we always look for a "Golden Unit" which we pick in cooperation with the hardware manufacturer. The plugin will sound exactly like this unit when we are done, so it´s important to use a unit that meets the specs exactly and just sounds great.

The VERTIGO team has offered us to give away the compressor unit we modeled to one of you!
We will pick the winner February 29th. You qualify if you own a valid license of the plugin.

Every existing user qualifies as well. If you already own the plugin, you take part in the drawing!
The VSC-2 plug-in is avaialble to purchase for $279 USD until February 29, 2012 (list price 299 USD).
More information: Plugin Alliance