Plugin Alliance has announced availability of the bx_console SSL 9000 J, a new Brainworx developed audio effect plugin that aims to deliver the big, deep and clear sound of the Solid State Logic 9000 series consoles.
The plugin was created using the original Solid State Logic 9000 J schematics and built using Component Modeling with assistance of SSL engineers. It features original EQ, dynamics and filter sections with plugin-only enhancements by Brainworx engineers.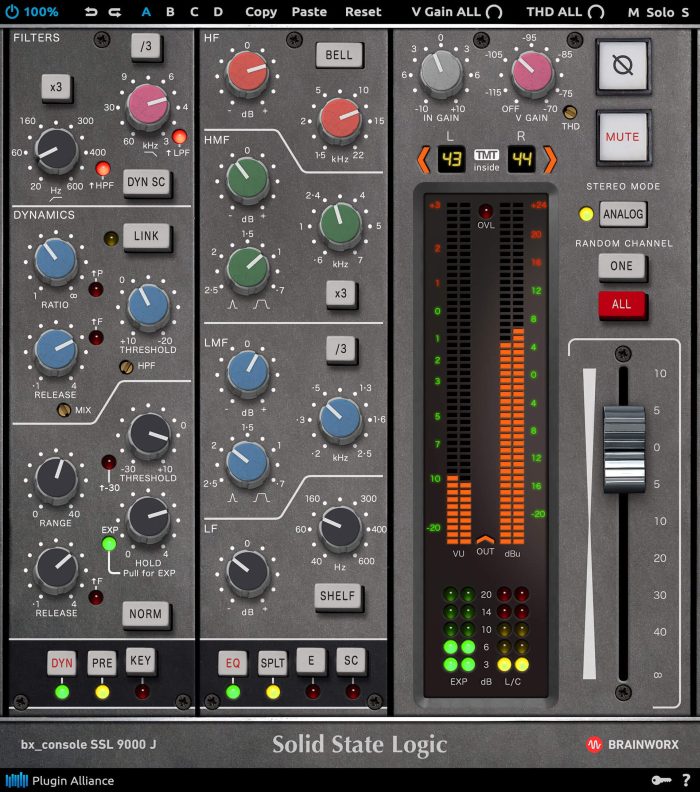 With the power of TMT, this officially-authorized bx_console SSL 9000 J plugin allows you to build a 72-channel analog SSL console inside your DAW. Use it to harness the power of the most famous British console ever produced for your mixes.

The SSL 9000 J improved on its predecessors by offering extended bottom end, a more clean and open top end, and additional distortion-free headroom—quickly making it a favorite among the top producers and engineers who crafted some of the biggest pop, hip hop, R&B and orchestral recordings of the 1990s, 2000s and beyond.

The Brainworx bx_console SSL 9000 J was created using the original schematics, and in close collaboration with the SSL team. Additional refinement of the emulation came thanks to legendary mixer Michael Brauer, who helped Brainworx match the plugin's sound and behavior to the SL 9000 J he personally used on countless gold- and platinum-selling records throughout his career.
bx_console SSL 9000 J features
72 different TMT Channel emulations in one plugin, just like a real console.
Switchable EQ modes between E and G-style filters.
9000 series-only dynamics features such as "peak detect" and expander/gate "hold".
Continuously variable THD and Virtual Gain controls to add colorful saturation and/or simulated analog noise independently or globally.
Scalable UI to adapt to your screensize and workflow.
Loaded with plenty of useful presets to give you a starting place for finding your sound.
Refined with help from mixing legend Michael Brauer, who tested the plugin against his favorite SL 9000 J console and provided feedback and notes.
The only true CONSOLE emulation—everything else is just a channel strip.
The plugin is on sale for the intro price of $299.99 USD for a limited time (regular $349 USD). It is included in the MEGA Bundle Subscription and the Brainworx Brand Bundle at no extra cost.
More information: Plugin Alliance