Plugin Alliance has released bx_subsynth by Brainworx, an instrument plugin that is designed to add sub, punch and saturation to sounds, built around the heart of a dbx 120XP subharmonic synthesizer.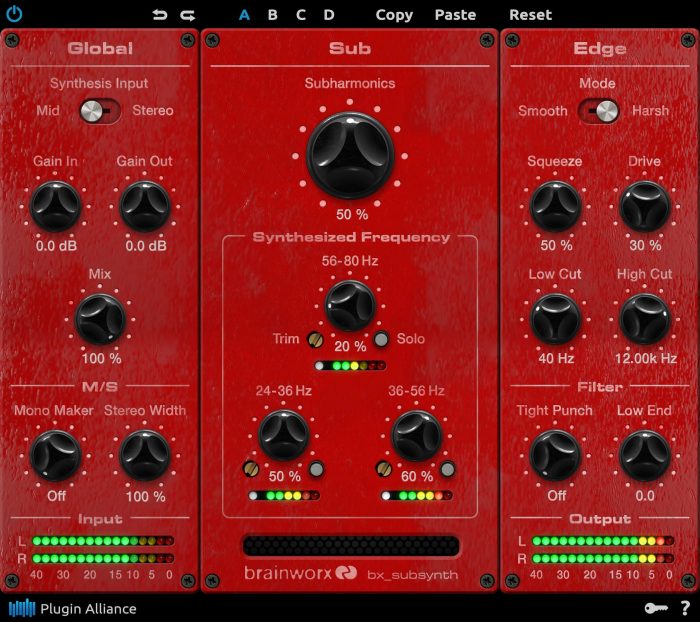 bx_subsynth is the Holy Grail for bass fanatics. Integrating a mix of classic and modern processing, this 10-ton beast gives music tracks, cinematic special FX and DJs' sound systems a bottom end that goes all the way to the Earth's core!

In developing bx_subsynth, Brainworx initially made a meticulous model of the legendary dbx 120XP Subharmonic Synthesizer's Waveform Modeling™ engine, which generates discrete bass frequencies one octave below what you feed in to it. They then supersized the 120XP's feature set to create much tighter, clearer, bigger and resonant bass.

For starters, bx_subsynth generates subharmonics in up to three discrete frequency bands versus the 120XP's two—the addition of a higher bass band for resynthesis lets you capture and nosedive the fundamental frequencies of a much wider variety of instruments, including snare drum and acoustic guitar. The Tight Punch control creates crystal-clear, body-thumping bass by adding a resonant sub-bass peak and filtering out unwanted lows below its cutoff frequency. Powerful Edge processing lets you select from two modes of operation—Smooth and Harsh—that compress and saturate your tracks, alternately delivering super-compact or explosively trashy drums and throbbing, in-your-face bass guitar. And of course, being a Brainworx plugin, bx_subsynth is a surgeon's knife for stereo imaging: On stereo tracks, you can choose to process only the mid channel or both left and right channels, collapse the processed bass to super-tight mono, and stretch the stereo image a mile wide.
bx_subsynth features
Models the dbx 120XP Subharmonic Synthesizer's elemental sound, with dramatically expanded processing capabilities and controls.
Adds thunderous lows to music tracks, cinematic FX and DJ sound systems.
Separate controls independently boost synthesized subharmonics in three bass-frequency bands, each of which can be soloed and feature an output-level meter.
Helpful signal indicators show you at a glance which subharmonic bands to boost for most dramatic effect on different sources.
A signal-boosting input-trim screw for each bass-frequency band helps generate strong subharmonics from dry bass signal that would otherwise be too weak.
Master volume knob controls summed subharmonics' output level.
Tight Punch provides resonant high-pass—with adjustable cutoff frequency—for accentuated punch while taming excessive low end.
Low End control adjusts total bass output for perfect balance with mids and highs.
Two types of Edge processing—Smooth and Harsh—can be shaped with Low Cut and High Cut filters and fine-tuned with individual controls.
Mono Maker control sums bass band to mono below user-adjustable corner frequency for laser-like focus.
Stereo Width control adjusts stereo image from mono to mile-wide stereo.
Four fully automatable banks instantly recall alternate plugin settings for A/B/C/D comparisons.
bx_subsynth for Windows and Mac (VST/AU/AAX) is available for purchase for $149 USD.
More information: Plugin Alliance / bx_subsynth