Plugin Alliance has introduced the bx_console G, a channel strip audio effect plugin that emulates the legendary British G Series mixing console used on countless hit records and by top-tier engineers and marquee artists around the globe.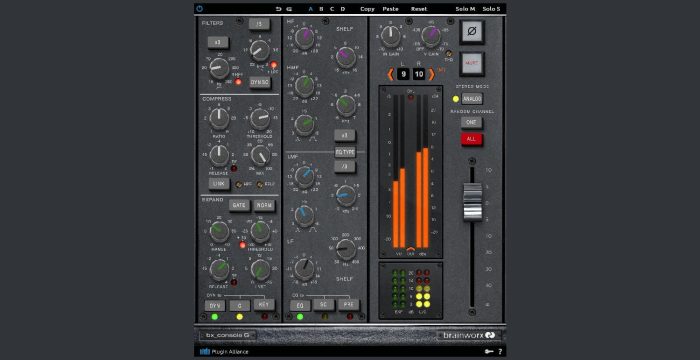 bx_console G includes 72 distinct channels of G series British console charm, delivering tight filtering and smooth compression in the true spirit of analog tone.

Using patent-pending Tolerance Modeling Technology, this plugin recreates the natural channel-to-channel variation of components found in analog hardware, which imparts the sonic depth that engineers have come to love.

bx_console G adds to the growing line of Brainworx TMT channel strip plugins that revolutionize the in-DAW production experience, invoking the behavior and sound of real-world studio consoles.
bx_console G features
Models the classic British G Series mixing console, offering 72 different channels.
Full-featured channel strip includes a Compressor/Limiter, Expander/Gate, 4-band parametric EQ, and wide-ranging High Pass and Low Pass filters.
Tolerance Modeling Technology (TMT, Patent Pending) simulates channel-to-channel variances in electronic components for the most realistic analog sound.
"Orange" and "Pink" EQ revisions can be swapped independently per channel with the click of a mouse.
EQ can be placed before or after the Dynamics section (Compressor/Limiter and Expander/Gate) in the audio path, or routed to the Dynamics' sidechain.
Frequency ranges for the High Pass and Low Pass filters and the Pink EQ's two midrange bands can be independently shifted by a factor of three, greatly expanding tone-shaping capabilities.
High Pass and Low Pass filters can be placed in the audio path or the Dynamics' sidechain.
Compressor/Limiter features continuously variable Threshold, Ratio, wet/dry Mix and two-stage Release controls; a dedicated High Pass filter; and a toggle for Auto- and Fast-attack times.
Swap G and E Series Compressor VCAs independently per channel with the click of a mouse.
Expander/Gate features continuously variable Threshold, Range and Release controls; two alternate Threshold ranges; and an Auto-/Fast-attack toggle.
Gate features continuously variable Hysteresis control that prevents on-off chattering when input signal level fluctuates around the threshold.
Expander Invert function lets you hear just the portion of signal that will be gated or expanded, helping you quickly set the most effective threshold.
Dynamics section can be keyed by an external sidechain input signal.
Continuously variable THD control adds colorful saturation independently per channel.
Continuously variable Virtual Gain control adds simulated analog noise independently per channel for extra vintage vibe.
Comprehensive metering and monitoring facilities incl. M/S solo features.
EUCON parameter mapping provided for Avid controllers, including the S6 control surface.
The bx_console G plugin for Windows and Mac (VST/VST3/AU/AAX) is on sale for the intro price of $179 USD . Regular price is $299 USD. A fully-function 14-day demo version is available.
Owners of the original bx_console who buy either the G or E series console plugins during the month of September will get a free upgrade to bx_console N when it is released ($29 USD MSRP upgrade).
More information: Plugin Alliance