Plugin Boutique has launched a limited time sale on Singularity and Molecule, offering a 40% discount on the AudioUnit plug-ins by Sinevibes.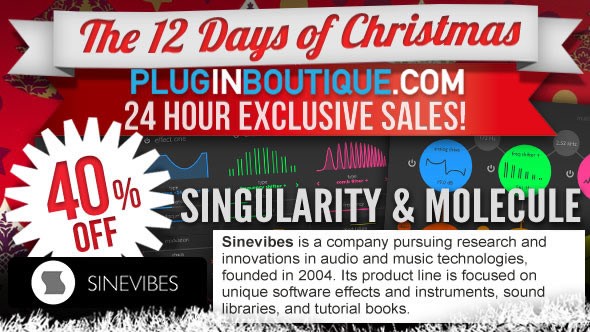 Singularity is a delay effect unlike any other. It starts with a tempo-synchronised feedback delay line capable of true stereo panning, and its tail is then sent into three extremely capable effect units connected in series. Each of these processors includes a rich selection of different algorithms: from filters, phasers and choruses to digital- and analog-style distortion, frequency shifter and granulator. In addition to all this, Singularity has four modulation generators for parameter animation – all of which lets you create extremely sophisticated, out-of-this-world delay and echo effects.

Molecule is a multi-band processor that allows you to split the sound into three frequency bands – low, mid, high – and pass them independently through different effects. It includes a vast array of algorithms such as comb filter, chorus ensemble, frequency shifter as well as barber-pole phaser, circuit-bent filter, digital- and analog-style distortion. Each of the three bands also gets its own tempo-synchronised modulator with multiple waveforms and realtime randomisation. Moreover, Molecule lets you store up to eight complete snapshots of itself and switch between them in realtime or via host automation.
The plugins are available at a 40% discount until January 1st, 2015.
More information: Plugin Boutique / Sinevibes