Plugin Boutique has launched a sale on its BigKick kick drum synth that combines synthesis for flexibility and samples for extra-character.
For a limited time only, BigKick is available at a 30% discount, and on top of that two expansion packs by Kiholm and Scott Diaz are included for free (£16 GBP value).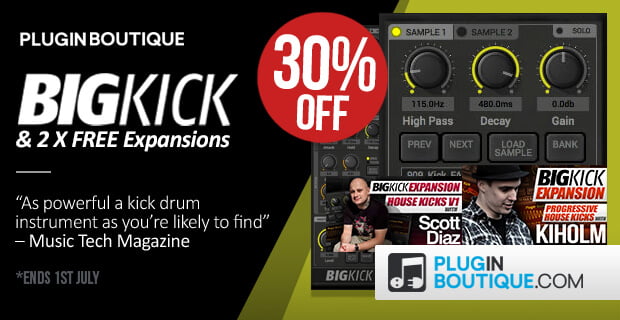 How many hours have you wasted searching through samples for the right kick? Or have you layered kick drums together and still not got the result you were after?

Do you want complete flexibility over the low end and attack of your kick?

The drums are the rhythm and groove of any track. And, the kick drum is the heartbeat of that groove. So you know how important it is to get the kick drum right in the mix. Big Kick was created with the sole intention of allowing you to achieve the results you have always wanted.

BigKick gets rid of the frustration and makes kick drum design easy and enjoyable.
BigKick is on sale for only £26 GBP until July 2nd. A purchase includes the Kiholm Progressive House Kicks and Scott Diaz House Kicks expansion packs.
Plugin Boutique has also launched a sale on the Drum & Bass Kicks V3 expansion pack by Machine Code, offering 50% off a collection of precisely crafted kick drums for future Drum & Bass.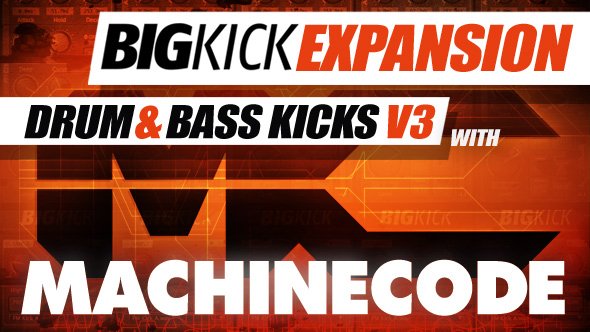 Fresh from album projects on EatBrain and Critical Music, Current Value & Dean Rodell (Aka MachineCode) have delved into their kick drum sample collection and expertly produced 64 rounded and driving kick presets for the BigKick.

The duo's extensive and cutting edge productions are released on the leading labels within Drum & Bass and regularly receive air play from Noisia. This expansion delivers exactly what you would expect from the sonic masters.
The offer expires July 2nd.
More information: Plugin Boutique