Plugin Boutique has launched a limited time sale on the AIR Music Synth Bundle, offering 60% off the bundle of Hybrid 3, Loom, and Vacuum Pro.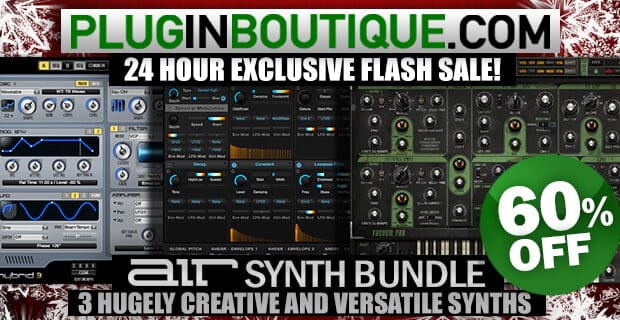 Loom, a modular additive synthesizer, comes packed with 30 editable modules and a sound-shifting Morph Pad. The intuitive Loom architecture enables you to quickly combine any of the 30 editable modules into 10 available cells to create unique and captivating sounds. The Morph Pad shifts your patch between user-defined variations to add richness, dynamics, and motion to your sounds.

Vacuum Pro is a polyphonic analog synthesizer with vacuum tube circuit modeling that perfectly captures the crunchy, warm sound of the analog era. With four analog oscillators, six vacuum tube circuits, multiple filters and envelopes, and built-in audio effects, Vacuum Pro lets you dive deep into subtractive synthesis to recreate those sought-after analog sounds from the 70s and 80s.

Hybrid 3.0, a high-definition analog and wavetable synthesizer, combines the legendary warmth of analog synths with a full range of futuristic digital manipulation capabilities. The result is a versatile virtual instrument that can sound like a synth you remember or something no one has ever heard before.
The bundle is available at a 60% discount until January 1st, 2016.
More information: Plugin Boutique / AIR Music Synth Bundle