Plugin Boutique has launched a group buy deal for VirtualCZ, a virtual synthesizer instrument inspired by an iconic series of digital synthesizers made in the 1980's.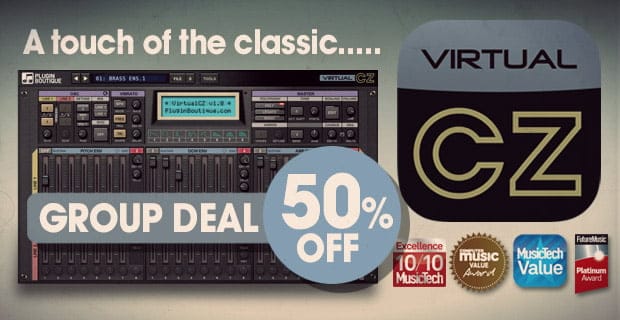 If you are new to the CZ you'll find that VirtualCZ delivers the same sound quality as its hardware predecessor, along with new features that bring its sound up to date.

If you are familiar with the CZ synths, we think you will find VirtualCZ faithfully emulates the sound of the hardware in both sound and feel, also offering some great new features.
VirtualCZ features
Recreates the unique synthesis engine of the CZ synths.
Works as a SYSEX editor/librarian for all CZ hardware as well as an emulation.(it models the flagship CZ-1, but is also compatible with the CZ-101, CZ-1000, CZ-3000 and CZ-5000).
2 CZ-style Phase Distortion oscillators per voice (each has 8 wave shapes, which can be different for alternate cycles).
6 loop-able envelope generators per voice (switchable between easy-to-use ADSR and powerful CZ-style 8-Stage MSEG modes).
Tempo sync-able LFO for vibrato, with 7 shapes.
Ring Modulation and Noise Modulation.
32 voice polyphonic/mono/legato modes.
Unison and detuning effects.
Stereo panning effects.
Microtonal tuning support.
Vintage stereo chorus/ensemble effect (2 different algorithms).
Randomization of parameters.
Easy to use interface (all key synthesis functions accessible on the front panel).
Includes over 200 high quality presets plus ability to load thousands of CZ patches online.
Presets come in multiple formats: fxp/aupreset/vstpreset/tfx.
Import/export presets for all plugin formats.
Optional cross-format preset browser.
Available for Mac and PC in VST2, VST3, AU and AAX plug-in formats plus standalone app.
VirtualCZ is available at a 50% discount until July 27th, 2015. Use coupon CZGROUP at checkout to take advantage of this offer.
More information: Plugin Boutique / VirtualCZ